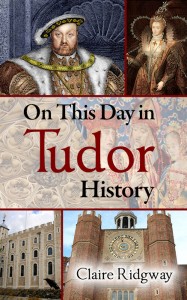 Just to let you know that the On This Day in Tudor History paperback is now available on some of the Amazon sites and will be filtering through to the others soon.
Here are the links for Amazon US and Amazon UK:
The Kindle version went live yesterday.
Thank you so much for your support. The book hit number one in three of the Amazon US best-seller lists yesterday and number two in another list so I'm blown away! I do hope you enjoy it as much as I enjoyed writing it.
P.S. In celebration of the launch of On This Day in Tudor History, I've lowered the price of the Kindle version of The Anne Boleyn Collection to $0.99 or £0.99.