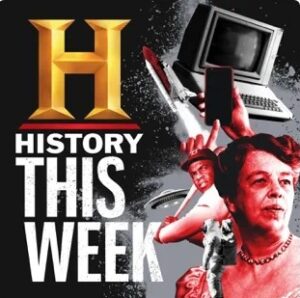 I'm honoured to have been interviewed for this week's History Channel "HISTORY This Week" podcast on my favourite subject, Anne Boleyn. A big thank you to the History Channel for asking me.
The podcast is available now on your favourite podcast platform (in English speaking countries). Here's the blurb and a few links for you:
January 15, 1535. King Henry VIII has a decree. As of today, he is "the only supreme head on earth of the Church of England". Which means: the Pope is no longer head of the Church in England for the first time in history. And why? All because of a woman named Anne Boleyn. King Henry VIII moves heaven and earth to marry the woman he loves, but just a thousand days later he will have her executed. Why did he do it? And how is the story we always tell about Anne Boleyn all wrong?
Apple podcast link:
https://podcasts.apple.com/us/podcast/off-with-her-head/id1493453604?i=1000504955336
Spotify link:
https://open.spotify.com/episode/62kHfiEwEAKlmhlfwJA04G?si=HA7n1823TO-b1GLQBc2lhw
History Channel US page:
https://www.history.com/history-this-week