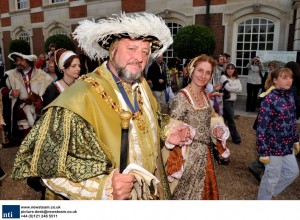 On this day in history, on 24th June 1509,  Henry VIII was crowned King of England and his new bride, Catherine of Aragon, was crowned Queen.
I'm not going to write about his Coronation because he is taking over this blog already!
However, you can follow his special day on Twitter. Simply follow "I am Henry VIII" –http://twitter.com/IamHenryVIII – which is the Historic Royal Palaces charity, owners of the Tower of London and Hampton Court Palace, tweeting on Henry's behalf.
At time of writing, Henry VIII's tweets so far today are:-
"I am wearing a crimson velvet robe, ermine trim and gold brocade. My top and collar embroidered with diamonds, rubies, emeralds and pearls."

"Katherine wears white-embroidered satin and has her hair loose, crowned with a jewelled coronel."

"We are setting off from the Tower now, to start the procession through London where I will greet my people."

"Edward, Duke of Buckingham leads, holding a silver staff and wearing a chain with rubies and jewels – then the Mayor, sergeants and heralds."

"Behind me seven men bearing arms – Saints Edward, Edmund and George, flags of England and France and the Tudor Rose and Royal Crest."
and he will be tweeting about his coronation all day – Don't miss it!
Don't you just love the new high tech Henry!
P.S. If you enjoy online games, you may want to try your hand at the Henry VIII Dressed to Kill Foot Combat game at the Historic Royal Palaces website. Can you beat Henry and give him a taste of his own medicine?!
(Photo from Historic Royal Palaces and Newsteam International – Hampton Court Palace's Coronation Weekend 20th-21st June 2009)