New Play on Anne Boleyn – Fallen in Love: The Secret Heart of Anne Boleyn
Posted By Claire on February 24, 2011
Those of you in East Anglia or those of you visiting East Anglia in May and June will be interested to know that the Red Rose Chain Film and Theatre Company are putting on a play, "Fallen in Love: The Secret Heart of Anne Boleyn" at Gippeswyk Hall, Ipswich.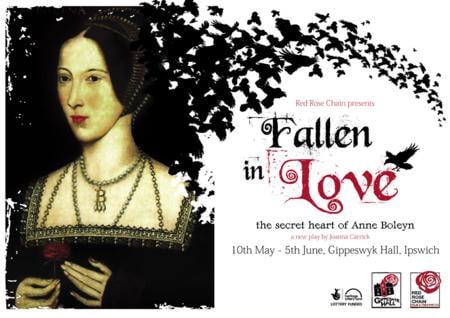 Here is the low-down from the theatre company
Fallen In Love: The Secret Heart of Anne Boleyn
Love, betrayal, jealousy and treason; the secret heart of Anne Boleyn is revealed in this bold and authentic new production.
Red Rose Chain Film & Theatre Company is delighted to announce the launch of FALLEN IN LOVE: The Secret Heart of Anne Boleyn. This intimate and powerful new play is written and directed by Red Rose Chain's artistic director Joanna Carrick and performs from 10th May until 5th June.
The year is 1536. Queen Anne Boleyn, the woman who changed the world forever by capturing the heart of a King, faces trial with her brother George for adultery, incest and treason. Witness a nation irreversibly transformed as the most passionate and decisive events of England's history unfold in the tense and treacherous crucible of the royal court.
Fallen In Love will be performed in the grounds of Gippeswyk Hall, Ipswich, Red Rose Chain's breathtaking new home. The lawn behind the Grade II* listed manor house will play host to a unique theatre tent, as audiences are invited to step inside and experience the sights and sounds of Tudor England. There are two performances every evening except Mondays, with a total of 48 shows.
Red Rose Chain have been producing high-quality films and theatre productions for twenty years. The Ipswich-based not-for-profit company are an independent and self-sustaining organisation who specialise in creating original productions that confront social concerns, often working with overlooked or hard-to-reach groups to create powerful and insightful stories that demand to be told.
An education programme will accompany FALLEN IN LOVE, engaging local secondary schools, colleges and community groups with the play and connecting them to the historical events within the story.
10th May to 5th June 2011 at Gippeswyk Hall, Ipswich. Details and booking on 01473 603388 or at www.redrosechain.com
Trivia: Apparently, Joanna Carrick used The Anne Boleyn Files in her research on Anne Boleyn!