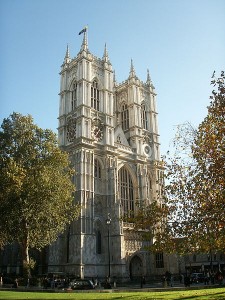 Thank you for all the emails I've been receiving asking about our 2012 tour programme – you're all so excited and so am I!
I've improved The Executed Queens tour and Discover the Tudors tour itineraries based on feedback from this year's attendees to make sure that these tours really are your dream Tudor vacations, that they are as perfect as perfect can be. So, here we go with our brand new Discover the Tudors Tour and special offer.
Discover the Tudor Tour 2012
New for 2012, this 9 day/8 night tour takes you to some amazing Tudor attractions and will really give you your Tudor fix!
This tour, taking place from Saturday 23rd June to Sunday 1st July, will be led by Claire (me!) and Tim Ridgway, creators of The Anne Boleyn Files and highlights include:-
Guided tour of Westminster Abbey – The resting place of 17 monarchs, including Henry VII and Elizabeth of York, Edward VI, Mary I and Elizabeth I
Visit to Windsor Castle – Official residence of Her Majesty Queen Elizabeth II and also the resting place of Edward IV and Elizabeth Woodville, Henry VI, Henry VIII and Jane Seymour, Charles Brandon Duke of Suffolk, Charles I and many more. A beautiful castle!

A day at Hampton Court Palace with our expert costumed guide and Tudor focused tour
Private evening tour of the Tower of London followed by the traditional Ceremony of the Keys
Visit to Shakespeare's Globe Theatre – A replica of the one which burned down in 1615 during a performance of "Henry VIII"!
A ghost walk of Stratford-upon-Avon – Be afraid, be very afraid!
A full day in the beautiful riverside town of Stratford-upon-Avon, William Shakespeare's hometown. Walking tour including Holy Trinity Church (where Shakespeare is buried), Hall's Croft, Nash's House and New Place, and Shakespeare's Birthplace. Coach to Anne Hathaway's Cottage and Mary Arden's House.

Day at Bosworth Battlefield Heritage Centre – Find out about the battle which started the Tudor dynasty, try your hand at falconry, enjoy a talk on weaponry and Tudor battle tactics, browse the exhibition and walk the battlefield
Hever Castle – Our time at this beautiful castle includes a private guided tour, talk by Hever historian, evening banquet in the main castle dining room and free time to appreciate the beauty and atmosphere of the Boleyn family home

The Astor Wing of Hever Castle

Penshurst Place – Visit to the house described as "the grandest and most perfectly preserved example of a fortified manor house in all England".
Luxury accommodation at 3 venues – the 4 star Tower Hotel located on the banks of the River Thames just a stone's throw from Tower Bridge and the Tower of London; the Alveston Manor Hotel, a stunning Tudor manor house in Stratford-upon-Avon, and Hever Castle, where we stay in the private and exclusive Astor Wing with its Tudor suite and private lawn.
Talks by historian Dr John Guy, Hever historian and one other (TBC)
Time to chat to Claire and get those nagging questions answered!
Special Offer – Don't Miss Out!
Because we really need to ensure that this tour is going ahead, so that we can confirm our venue bookings, we are offering an Early Bird Special offer.
Book your place with a deposit of £300 per person before midnight on Monday 22nd August 2011 and we will give you a discount of £100 off the full price of the tour. Your name will also be put into a prize draw for a signed copy of "The Life and Death of Anne Boleyn" by Eric Ives.
Click here to book your place now. Places are limited to 20 so that everyone can have a truly personal and magical experience.
Full Details
The full itinerary, cost, dates and terms can be found at our tour website – click here.
You can read testimonials from past tour attendees on our Testimonials page.
What Next?
Tomorrow I will be sharing details of our updated Executed Queens Tour 2012 and after that I will be doing features on the amazing places we will visit on these tours, so keep your eyes on the site or your email inbox!
Don't miss out on this offer and I hope to meet you next June!