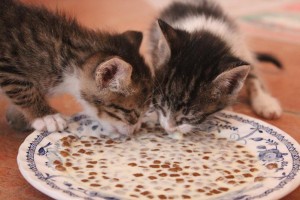 Thank you to all those who entered the Name the Kittens competition. Christian, Verity and Joel could not believe how many names you came up with and it made the judging very tricky.
After going through the list a few times, the two names they agreed upon were Majesty and Portia, so congratulations to Esther, the first person to mention "Majesty", and Deborah Montuori for coming up with Portia. Esther and Deborah both win a copy of Toni Mount's Everyday Life in Medieval London.
Our kittens are both female and Majesty is tabby in her colouring and Portia is a mix of white and tabby. They are both settling in well and are bundles of fun.
[slideshow id=623 w=300 h=300]
Other News
I've just added this week's quiz to the Tudor Society for members to enjoy and September's magazine and talk are live on the site. Go to www.tudorsociety.com/ to log in or find out more about the Society.