Posted By Claire on November 16, 2011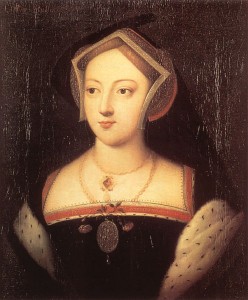 Thank you so much to Anne Boleyn Files visitor Teri for bringing my attention to a beautiful piece of 16th century music entitled "My Lady Carey's Dompe". I've been humming it since I listened to it!
Teri told me that it was dated to around 1525 but that its composer was unknown, so I did a bit of digging. Now, the history of music is definitely not my forte but I found out that:-
It was dated to the 1520s
There is speculation that it was composed by Hugh Aston, an important Tudor composer known for his innovative writing for the keyboard
"Dompe" can refer to a dance, a dirge, a lament or "a melancholic love song". One source says that the word comes from "dump" which is Irish for "lament".
It may have been written for William Carey's death in 1528
It is one of the earliest surviving keyboard pieces
All the mentions I found of it online and in music history books suggested that the Lady Carey in question is Mary Boleyn but I'm wondering how that is known when we don't even know who the composer was. There were quite a few Lady Careys – William Carey's mother, sisters and sister-in-law – so can we really be sure? I'll keep digging! By the way, my husband, a Sinead O'Connor fan, pointed out that her "Red Football" has the same chord sequence!
Anyway, here are a couple of versions that Teri found – you will notice that the second has an error in its written introduction, it says that Carey was Mary's second husband! Enjoy them and I dare you to go the whole day without humming the tune!
Notes and Sources
Teri Fitzgerald
European Music, 1520-1640 by James Haar, p494
The History of Keyboard Music to 1700 by Willi Apel, p249, 284
Hugh Aston Wikipedia page, this has an audio excerpt of Aston's "Hornpipe"
Aston, Hugh (d. 1558), Nick Sandon, Oxford Dictionary of National Biography