Posted By Claire on March 28, 2011
Today we have the penultimate part of Nancy Smith's series on the Tower of London's ghosts:-
Monarchs Who Never Were – Hauntings at the Tower of London Part 3
by Nancy Smith
The next two Tower of London hauntings are especially tragic, because of the advanced age of one if the victims, the youth of the other, and because both women were caught up in events that they had no control over but which led to their executions anyway.
Margaret Pole, Countess of Salisbury
Margaret Pole, Countess of Salisbury, was born c. 1473, the daughter of George, Duke of Clarence, a younger brother of King Edward IV, and Isabella Neville, elder daughter of Warwick the Kingmaker.  She is known as the Last of the Plantagenets because she was one of the few surviving members of the Plantagenet dynasty still alive after the Wars of the Roses.  Tragedy struck Margaret's life when she was just a child, when her mother died when she was 3, and in January 1478, before she had reached her 5th birthday, Margaret's father, the Duke of Clarence, was arrested for treason against his brother, the King, and was jailed, and then murdered, in the Tower of London, allegedly in a barrel of Malmsey wine.
Margaret married Sir Richard Pole when she was about 18, and was left a widow with five small children at the age of 31 when her husband died in 1505.  Her life seemed to take a turn for the better when she became close friends with Katherine of Aragon, Henry VIII's first queen.  When Henry and Katherine's daughter, Princess Mary, was born in 1516, Margaret became her godmother and later her governess.  However, when Henry sought a divorce from Katherine and then broke with the Roman Catholic Church, making himself Supreme Head of the newly formed Church of England, Margaret's fortunes changed again.  Things became worse when one of her sons, Cardinal Reginald  Pole, writing from the safety of Rome, sent Henry a copy of his published treatise "Pro Ecclesiasticae Unitatis Defensione", which criticized the policies of Henry and questioned his right to call himself Supreme Head of the Church of England.  Henry was furious and, since he couldn't get to Cardinal Pole in Rome, he decided to punish the Cardinal's family instead.  Even though they were innocent of any crime, Margaret's eldest son, the 1st Baron Montagu, another son and other relatives were arrested on a charge of treason in November 1538 and committed to the Tower.  In January they were executed, with the exception of her son Geoffrey.  Ten days after the arrest of her sons, Lady Salisbury herself was arrested and examined by the Earl of Southampton and Thomas Goodrich, Bishop of Ely.  In May a Bill of Attainder was introduced against her, at which time Cromwell produced a white silk tunic which was embroidered on the back with the Five Wounds and was found amongst her belongings.  The discovery was said to connect her to the Pilgrimage of Grace and she was attainted to die by Act of Parliament.
After passage of the act, Margaret was conveyed to the Tower, where she suffered from the cold and the fact that she didn't have sufficient clothing to protect her from the weather.  Margaret lived in these appalling conditions for 2 years, until the morning of May 27, 1541, when she was told she was going to die within the hour.  There are two versions about the way the Margaret Pole died.  According to one version, she went quietly when the guards came to take her to her execution, but she refused to say that she was a traitor and refused to lay her head on the block.  She had to be forced onto the block and, while she was struggling, the executioner, who was young and inexperienced, struck a blow that made a gash on her shoulder rather than hitting her neck.  The executioner was unable to control the heavy axe, and he hacked away at her head and neck, needing 10 or 11 blows to complete the job.  This version is horrific enough, but there is an even more gruesome version of Margaret Pole's execution.  This version says that, after being dragged struggling to the block, the 67-year old countess, who was frail and ill, jumped up after the first blow struck her and began to run from the executioner.  He was ordered to chase her around the scaffold until he had succeeded in hacking her to death.  No matter which version was true, Margaret Pole's execution was the most gruesome to take place within the Tower's walls.
The execution of Margaret Pole has been replayed throughout history on the anniversary of her execution by the participants in this sad drama.  The phantom of the screaming Countess is chased by her ghostly executioner, forever trying to evade the blows of his axe.  During this pursuit, the shadow of a large axe has been seen in silhouette, reflected on the outer walls of the White Tower and over Tower Green.
Lady Jane Grey
The other unfortunate lady to be executed because of someone's actions other than her own was 16-year old Lady Jane Grey.  Lady Jane, a fervent Protestant, was the granddaughter of one queen and the great-great-granddaughter of another.  Her mother, Lady Frances Brandon, was the elder daughter of Mary Tudor, known as the French Queen due to her brief marriage to Louis XII of France, by her second husband, Charles Brandon, Duke of Suffolk, a close friend of her brother Henry VIII.  In 1533 Frances was married to Henry Grey, 3rd Marquess of Dorset, who was a great-grandson of Elizabeth Woodville, Queen of Edward IV.  Elizabeth had married Sir John Grey, a Lancastrian knight, and they had two sons, Thomas and Richard.  Sir John was killed at the Second Battle of St. Albans in 1461, and since he had been on the Lancastrian side of the Wars of the Roses, he was considered to be a traitor to the Yorkist king, Edward IV.  Therefore his estates were confiscated, leaving Elizabeth and their sons destitute.  Elizabeth was forced to take her sons and move back into her parents' house.  In an attempt to regain her sons' inheritance, Elizabeth waylaid Edward IV as he hunted, and Edward IV was taken by the beautiful widow.  This led to a romance which culminated in a secret wedding between the Yorkist king and the Lancastrian widow.  Thus, Thomas Grey, eldest son of Elizabeth Woodville and Sir John Grey of Groby, became the stepson of King Edward IV.  Thomas Grey eventually married Cecily Bonville, a niece of Richard Neville, Earl of Warwick ("Warwick the Kingmaker").
Thomas Grey and Cecily Bonville had a son, also named Thomas, who took Margaret Wooton as his second wife.  Together they had 4 sons and 4 daughters, including Henry Grey, who was born in 1517.  Henry succeeded his father as 3rd Marquess of Dorset when the latter died on October 10, 1530.  Although he was originally betrothed to Katherine, daughter of William FitzAlan, 18th Earl of Arundel, Henry Grey jumped at the chance to marry Lady Frances Brandon, niece of Henry VIII, when the king gave him permission to do so.  The couple had three children to survive infancy:  Lady Jane Grey (1537-1554), Lady Catherine Grey (1540-1568) and Lady Mary Grey (1545-1578).  The Greys were ambitious, and conspired with Thomas Seymour, 1st Baron Seymour of Sudeley (a younger brother of Edward Seymour, 1st Duke of Somerset and Lord Protector of England and Henry VIII's third queen, Jane Seymour) to marry their eldest daughter, Jane, to King Edward VI of England, Thomas's nephew.  Lady Jane became the ward of Sir Thomas and, after his marriage to Catherine Parr, widow of Henry VIII, in April of 1547, Jane moved with the couple to Sudeley Castle in Gloucestershire where she experienced the happiest period of her life.  Catherine became like a second mother to Lady Jane, but Jane's happiness was short-lived.  Catherine Parr died on September 5, 1548, six days after giving birth to her only child, Mary Seymour.  Thomas Seymour was executed for treason on March 20, 1549 after a failed attempt to kidnap King Edward VI.  One of the charges leveled against him was plotting to propose Jane as a royal bride.  Thomas Seymour's death dashed the Greys' hopes of seeing their daughter become Queen Consort of Edward VI.  After this debacle, Lady Jane was returned to the Grey family home, Bradgate in Leicestershire, and back into the custody of her strict parents.
Lady Frances became heiress to the Suffolk estates when her two half-brothers, Henry and Charles Brandon (her father's sons by Katherine Willoughby) died within an hour of each other in July 1551.  Frances inherited the title of Duchess of Suffolk, making Henry Grey Duke of Suffolk jure uxoris.  He formally became Duke of Suffolk on October 11, 1551 in the same ceremony that elevated John Dudley to the title of Duke of Northumberland.  Dudley had overthrown Edward Seymour, the Lord Protector, in October of 1549 and was named Lord President of the Council on February 2, 1550.  As will be seen, it was Henry Grey's collaboration with John Dudley which was largely responsible for Lady Jane's tragedy.
With Jane's marriage to Edward VI now out of the question, new arrangements had to be made for her future.  She was briefly considered as a bride for Edward Seymour's eldest son; however, with the fall of the Lord Protector these arrangements also came to nothing.  By early 1553 Edward VI was clearly dying, and Northumberland realized that his influence (and maybe his life) would be over if the Catholic Mary Tudor ascended to the throne.  John Dudley and Henry Grey hatched a plot in which Lady Jane would be married to Dudley's third son, Lord Guildford Dudley.  The marriage took place on May 21, 1553 despite Jane's objections.  Edward VI, also a fervent Protestant, and probably at Northumberland's suggestion, altered his will to designate Lady Jane and her heirs male as his successor, bypassing not only his two half-sisters, Mary and Elizabeth, who Henry VIII had restored to the succession via the Third Succession Act, but also the descendants of Margaret Tudor, the elder daughter of Henry VII, and Lady Frances Grey herself.  Edward died on July 6, 1553.  Four days later, on July 10, Jane was proclaimed Queen of England, at which point she took up residence in the Tower, where she would spend the final 7 months of her life.  Northumberland had failed to capture Mary Tudor, the rightful heiress, prior to Edward's death being announced.  Mary was able to escape to East Anglia, where she began to gather her supporters.  On July 14 Northumberland departed London with troops in order to capture Mary; in his absence the Privy Council (who had also signed Edward's device naming Jane as his successor) switched their allegiance to Mary, and on July 19 Mary was proclaimed queen in London, much to the joy of the general populace, who knew little about Jane and distrusted Northumberland.  Jane and Guildford were detained as prisoners in the Tower, charged with high treason.
Northumberland was executed on August 22, 1553, but at this point Mary was inclined to show mercy to Jane and Guildford, who she considered to be Northumberland's innocent victims.  Although they were brought to trial on November 13, 1553 and sentenced to death, the expectations were that as soon as it was considered safe to do so, Jane and her husband would be set free to live in exile at one of their families' manor houses away from London.  It was Wyatt's Protestant Rebellion in late January 1554 that doomed the young couple.
Wyatt's Rebellion began as a popular revolt, motivated by Mary I's unpopular decision to marry Prince Philip of Spain.  The object of the rebellion was not to restore Lady Jane to the throne but to overthrow Mary and replace her with her half-sister Elizabeth, who would then marry Edward Courtenay, himself having royal blood as his paternal great grandparents were Edward IV and Elizabeth Woodville.  Although Jane played no role in it, her father was one of the chief rebel leaders.  Due to his wife's friendship with her cousin, Queen Mary, Henry Grey had escaped the damage caused by the attempt to put Jane on the throne.  He was not confined to the Tower (as was Jane), but set free and allowed to return to court.  His involvement in Wyatt's Rebellion was the last straw.  Henry Grey's constant plotting finally caught up with him.  Mary realized that as long as Jane remained alive she could be a threat to Mary's throne.  The Spanish ambassador told Mary that Prince Philip would not be able to come to England to marry her as long as his safety could not be guaranteed.  Mary gave Jane a final chance to live by promising to spare her if she converted to Catholicism, even postponing her execution by a day in order to Jane to consider the offer.  Jane was as committed to Protestantism as Mary was committed to Catholicism, and refused the offer.  She was taken out to Tower Green and beheaded on the morning of February 12, 1554, after having watched her husband taken from the Tower to Tower Hill to be beheaded and thereafter witnessing Guildford's body and head being returned to the Tower for burial at St. Peter ad Vincula.  Shortly thereafter, Jane joined Guildford in the chancel of the little chapel.  Her father, Henry Grey, was beheaded at Tower Hill on February 23, 1554.  Her mother was fully pardoned by Queen Mary, and was permitted to live at Court with Catherine and Mary, her two surviving daughters.  Since Lady Jane died for her Protestant faith as well as for her closeness to the throne, she has been viewed as a Protestant martyr and was featured prominently in John Foxe's Book of Martyrs.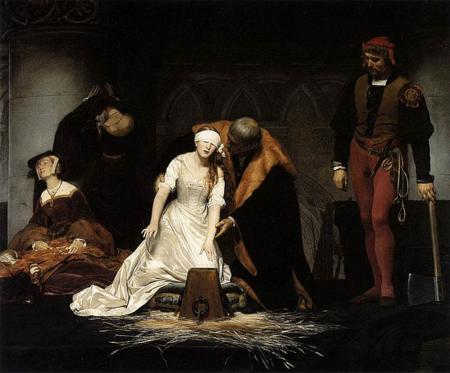 Lady Jane Grey's unhappy life and early, tragic death have given rise to many stories, and this includes stories about her ghost.  She allegedly haunts the Tower of London on February 12th, the anniversary of her death, although the last time her ghost was reported was on February 12, 1957.  At about 3:00 am on that date a guardsman standing watch in the area of the Salt Tower heard something strike the top of his guard tower.  Upon going outside to investigate, the guard noticed a headless white shape forming on the battlements of the Salt Tower.  It was only after discussing his experience with some of the other guards that the witness realized the significance of the date – it was the 403rd anniversary of Lady Jane's execution.  Lady Jane has also been seen appearing as a shimmering white figure floating from the river mists.  She then strolls around Tower Green or glides along the battlements before withering away.  The ghost of Jane's husband, Lord Guildford Dudley, has been spotted in the Beauchamp Tower, where he was held prisoner with his father and several of his brothers.  As an aside, Lady Jane's ghost has also been seen at her birthplace, Bradgate Park in Leicestershire.  A ghostly coach, drawn by four headless horses, races through the park between the church and the ruins of the manor house on Christmas Eve.  Jane is seated inside the coach, holding her head in her lap.  When the coach reaches the ruins she is seen alighting the coach, still carrying her head, before she disappears inside the ruins.  This story will sound familiar to anyone familiar with my article on Anne Boleyn ghost stories.  In Anne's case, however, she returns to her birthplace (Blickling Hall) on May 19, the anniversary of her execution.  On Christmas Eve, Anne's ghost is seen crossing the bridge over the River Eden on the grounds of Hever Castle, her childhood home.  It is when Anne is not visiting her birthplace or her childhood home that she takes up residence in the Tower.
You can read the first two parts of this series at:-
Sources