Monarch: Henry VIII DVD Competition
Posted By Claire on July 4, 2014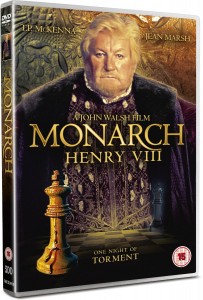 To celebrate the release of the remastered version of his film Monarch, writer and director John Walsh is offering three copies of the DVD to three lucky Anne Boleyn Files followers. Here are more details about the film…
Monarch is part fact, part fiction and unfolds around one night when the injured ruler arrives at a manor house closed for the season. Henry is without the power and control of his palace and is vulnerable from those around him, and from his own sanity. Henry left England financially and morally bankrupt; his collection of enemies his only constant. Even today there is a question mark surrounding his burial and possible exhumation. TP McKenna plays Henry; after starring alongside Richard Burton's Henry VIII in the epic Anne of a Thousand Days, Charge of the Light Brigade, Straw Dogs; and with Jean Marsh (Upstairs Downstairs, Willow and Fatherland) playing an amalgamation of his ex-wives. Monarch unfolds on one night in the year of Henry's death, 1547.
The film has been painstaking remastered from the original 35mm colour camera negative which was recently discovered in a film vault after nearly 20 years and is now presented in full High Definition for the first time. From double BAFTA nominated Writer & Director, John Walsh.
DVD Extras:
Monarch Memories – cast and crew look back at the shoot
Restoring a King – The restoration process with before and after comparisons
Unseen TP McKenna on set interview from 1996
To be in with a chance of winning, all you have to do is comment below by midnight Friday 11th July (GMT) saying who you think is the best Henry VIII actor and why. Three winners will be picked at random and the results shared in the comments section and on Facebook on Monday 14th July. The prize is a region free DVD, which can be played on any DVD player worldwide, and John is happy to post worldwide.
See http://www.monarchfilm.com/ for more information on the film.