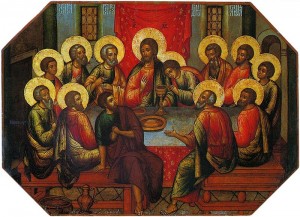 Today is Maundy Thursday, the feast day that commemorates the Last Supper, that final meal that Jesus Christ had with his disciples before his arrest, so I just wanted to share with you some articles I have written on the topic:
2 April – On this day in history…
1502 – Arthur, Prince of Wales, son and heir of King Henry VII and Elizabeth of York, died at Ludlow Castle in the Welsh Marches. He was just fifteen years old, and had only been married to the Spanish princess Catherine of Aragon for four and a half months. Click here to read more about his death.
1536 – Anne Boleyn's almoner, John Skip, preached a rather controversial sermon in front of the King. Skip spoke on the Old Testament story of King Ahasuerus "who was moved by a wicked minister to destroy the Jews" but Queen Esther stepped in with different advice and saved the Jews. In Skip's sermon, Henry VIII was Ahasuerus, Anne Boleyn was Queen Esther and Thomas Cromwell, who had just introduced the "Act of Suppression of the Lesser Monasteries" into Parliament, was Haman, the "wicked minister". The sermon was an attack on what had been debated in Parliament and it was a statement on Anne's stance and her beliefs. Click here to read more about his sermon.