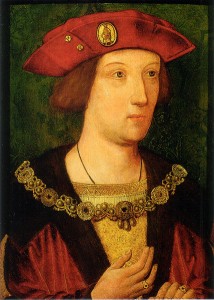 On 2nd April 1502, fifteen year-old Arthur Tudor, Prince of Wales, eldest son of Henry VII and Elizabeth of York, died at Ludlow Castle in the Welsh Marches.
It is not known what Arthur died of. The theories include consumption, diabetes, sweating sickness, testicular cancer and pneumonia. His wife of four months, Catherine of Aragon, also became ill, but fortunately recovered and went on to marry Arthur's younger brother, Henry, when he became King in 1509.
Arthur was laid to rest in Worcester Cathedral and his resting place and memorial, Prince Arthur's Chantry, can still be seen today at the Cathedral.
You can read all about Arthur in my article Arthur, Prince of Wales
.