Mary Boleyn and Henry VIII – Their relationship and the paternity of their children
Posted By Claire on February 7, 2022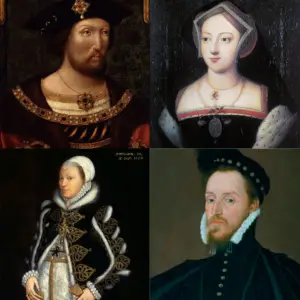 Tomorrow, 8th February, is the last day to sign up for my Mary Boleyn Masterclass!
If you sign up before the end of tomorrow for my 7-day online event "Anne Boleyn, the Woman who Changed England", you'll be able to join me on Saturday 12th February for my live masterclass and Q&A session on Mary Boleyn, sister of Anne Boleyn and mistress of Henry VIII. I'm doing it twice that day to suit different time-zones.
Find out more and register by clicking here
My last masterclass was a huge success. I had so many wonderful questions and lots of positive feedback. It was so lovely to talk Tudor and to interact with other Tudor history lovers, particularly those interested in the Boleyns. A wonderful time was had by all, and I can't wait to do another one. Don't miss it!
On Saturday, one topic I'll definitely be delving into is Mary Boleyn's relationship with Henry VIII:
What do we know about Mary Boleyn and Henry VIII?
When did their relationship take place?
Is there any evidence that Mary Boleyn was Henry VIII's true love?
Did Mary's father and uncle force her into the king's bed?
Was Mary Boleyn's husband, William Carey, rewarded for the use of his wife?
Did Henry VIII father Mary Boleyn's children, Catherine and Henry Carey?
It's an interesting topic and there are different theories on it. I'll be looking at what history tells us about the king's relationship with Mary and sharing my views on it.
I do hope you can join me!
Click here to find out more details about the masterclass and how to sign up.