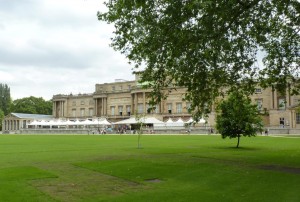 Today we have an article from author and historian Marilyn Roberts who you will remember from her wonderful articles on the Howards and Norfolk House. Thank you, Marilyn!
5th July
I'm on the terrace of Buckingham Palace, in a large white marquee done out with duck egg blue fixtures, having a glass of Sandringham Apple Juice and consuming a smoked salmon and cream cheese bagel. No, I am not a Royal Garden Party guest, nor am I about to be invested as a Dame of the British Empire (although I feel it's long overdue); I am simply here to see the Diamonds Exhibition. At least that was the plan: gallop through the State Rooms, linger at the diamonds, gallop through the rest of the State Rooms, but, of course, it is all so mind-blowing that I have lingered just about everywhere.
Why would I not want to see those magnificent rooms? Well, I last came here the first week in September, 1997 when the Palace was unexpectedly closed to the public for a few days and only long-standing pre-booked parties (booked since the previous February) had been allowed special admittance that day. It was the experience of a lifetime: we had all split up and wandered free up the Grand Staircase, through Blue Rooms, Throne Rooms and Galleries without seeing another soul, apart from the occasional uniformed security person standing discreetly a in a corner or seated near a pillar, while, in typical British style, the rain poured down, soaking the thousands of people pressing against the palace railings and wandering in a daze down the Mall clutching bunches of flowers. There was a hammering and banging in one of the corridors and I joked it was the Queen trying to get out.
Actually, it was the Queen trying to get in. She had suddenly returned from her summer holidays at Balmoral and was about to make an emotional speech to a bewildered world. Two of our party had been in the corridor after we had passed through and were told that partitions were being removed as it was part of the royal route through the palace that was partially boarded up for security reasons when it was open to the public. Then a group of flunkeys in livery had appeared, to be followed closely by the Queen and Prince Philip. He, generally known for his abrasiveness, had wandered up to the stunned tourists and advised them to take their time over the remainder of the tour as it was still pouring with rain.
Being one of only 30 people wandering around a vast palace was a wonderful experience and I vowed I would never go back, as I would never again have the same freedom to wander and drink it all in without seeing anybody else. But nobody would have wished for the circumstances that had brought it about, for this was the day before Princess Diana's funeral.
I am back here today because part of my work involves lecturing on royal jewellery, and to see the diamonds one has to take the whole tour. I was here at opening time, almost at the front of the queue, and it's been fine, a very enjoyable experience, but it has made me think about the changes in our perceptions of historical figures.
Claire's mission, as I understand it, is to clarify the realities of the life of the human being known as Anne Boleyn. I have taken on, without realising it was happening, a similar task with Katherine Howard and the step-grandmother who brought her up. How much of what was written of these Tudor women was true and how much was deliberate fiction concocted by their accusers and embroidered upon since? Being here today has brought back memories of Diana. She who, supposedly, would never be forgotten, has not had a mention in the recent Jubilee celebrations. In spite of (or maybe because of) the overwhelming media coverage that dogged her every day of her life for sixteen years, what do we really know about her as a person? If we cannot sort fact from fiction about a woman who was a prominent fixture in the news for so long in our own times, how much more difficult it will be to discover what really made these figures from the distant past tick.
8th July – back home
Sadly I failed to make the visit to Goldsmiths' Hall to see the Elizabeth locket ring. I spent longer than expected in Lambeth doing yet more research on Katherine and Granny Howard (thanks once again for his time to Philip Norman of the Garden Museum, formerly Katherine's parish church) and made it to St Paul's Cathedral only five minutes before the last entry at the Goldsmiths' which lies a few streets behind it, and I knew I wouldn't make it in time. I hope someone else can get there and maybe ask a few questions about the ring.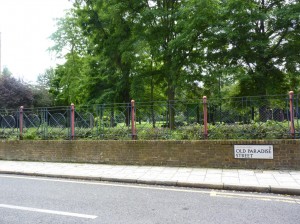 It was interesting to be able to examine the portrait of handsome Robert Dudley Senior at close quarters at the Wallace Collection and later compare it with the (possible) one of his son in the National Portrait Gallery's 'Imagined Lives' exhibition – I enjoyed both of those, and can appreciate what Elizabeth saw in the lovely Robert!
The NPG Anne Boleyn is now back on display after restoration and is looking good. The Tudor portraits in general were looking magnificent, and although I usually advise London visitors to get to their attraction early to be ahead of the crowds, I always go to the NPG late sessions on a Thursday or Friday.
At the British Library's Sir John Ritblat Gallery there is a small display of documents associated with coronations and celebrations, including the account of Anne Boleyn's procession from the Tower. They do vary these displays and I forgot to ask how long the documents would be on show. At Leadenhall she was read the following verse:
Honour and grace bee to our queen Anne
ffor whose cause an aungell Celestiall
descendeth, the falcon as white as a swanne
to crown with a diadem imperiall.
In hir honour rejoice wee all
ffor it cummeth from God, and not of man,
honour and grace bee to our queen Anne.
They are also showing the sketch of the seating arrangements for her coronation feast, where she is sitting at the top table.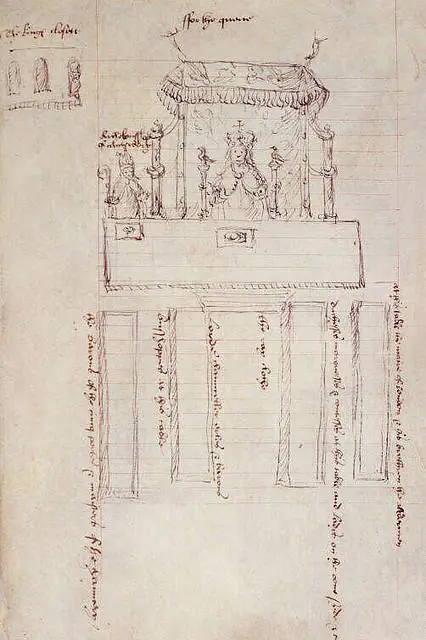 I hope this is helpful to anyone planning a visit. It was an unexpected treat to see the Anne Boleyn documents – I was at the BL doing research for a couple of days and nearly didn't bother with the Ritblat Gallery as I was rather short on time. The naïve little sketch of Anne in the enormous St Edward's crown is really rather touching.