Katherine Howard's Execution: The Tragic End of a Young Life
Posted By Claire on February 13, 2012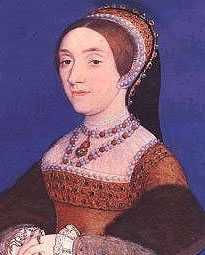 Today's post comes from historian Marilyn Roberts, author of "The Mowbray Legacy" and the forthcoming "Norfolk House". You may remember her articles on the Howards from December. Thank you, Marilyn!
There has been a quiet spell, of sorts, since 22nd December 1541 when we left prominent members of the Howard family incarcerated in the Tower. Some had already been charged and imprisoned for life over their involvement in Queen Katherine's transgressions, but some, including the old Duchess of Norfolk, are still languishing in some discomfort, and no little terror.
1st January
Marillac, the French Ambassador, writes that Lord William Howard is 'the least charged' and it is hoped he will be released soon, but his mother the Duchess, his sister Lady Bridgewater and the former Queen are yet to be judged by parliament through a Bill of Attainder.
16th January
Neatly slotted in among the list of rather mundane parliamentary business for the forthcoming session comes 'For due process to be had in high treason in cases of lunacy or madness,' which is highly significant, as Lady Rochford has suffered a nervous breakdown. Attainder will be condemnation without trial, and part of the purpose of the Bill is also to give parliamentary sanction to executions and imprisonments which have already taken place. Tucked away amongst the rest of the business we find the actual Bill of Attainder:
Katharine Howard whom the King took to wife is proved to have been not of pure and honest living before her marriage, and the fact that she has since taken to her service one Francis Dereham, the person with whom she used that vicious life before, and has taken as chamberer a woman who was privy to her naughty life before, is proof of her will to return to her old abominable life … and has met Culpeper in a secret and vile place… with only that bawd, the lady Jane Rocheford….
Some, including Lord Chancellor Audley, are uneasy that Katherine is not to be brought forward to defend herself, even if only to give the appearance of fair treatment, but when the delegation arrives at Syon to question her further she has no more to add except she hopes her family will not be made to suffer for her wrongdoings.
21st January
The Bill has its first reading.
8th February
The Bill of Attainder has its second reading and within the next three days will have its third and final reading before becoming an Act of Parliament and passing into law. It is, of course, a foregone conclusion that there will be no opposition, the Act will be passed and Katherine Howard will lose her head. She has been under house arrest, in reduced circumstances but no real discomfort, since the middle of November, so how much does she know of what is going on outside? Does she know Culpeper and Dereham are already gone, that her old step-grandmother is in the Tower, or that her own days are truly numbered? Come to think of it, what do any of the accused know of the current circumstances and whereabouts of the others?
10th February
Katherine Howard is taken on her penultimate journey in this life: to the Tower. In no doubt now as to where she is going and what is to happen to her, she struggles and has to be forced into a small covered boat and is then escorted along the Thames with Southampton ahead in a large barge and Suffolk behind in a barge loaded with armed men. The King's great friend Charles Brandon, Duke of Suffolk, has a little granddaughter aged about four. She's a bright little thing called Jane Grey.
11th February
The Bill of Attainder passes into law after its third reading; Henry cannot face the distasteful task of putting his name to what amounts to his own wife's death warrant, but the execution is still to go ahead.
12th February
The former Queen Katherine is told to 'prepare her soul', as is her lady-in-waiting Lady Rochford. Jane Rochford has gone mad with worry since her arrest, but the new law allowing the execution of someone not of sound mind will be able to deal with that.
13th February
Marillac writes to Francis I and comments on the Dowager Duchess of Norfolk's valuables and the precariousness of her position now that the Bill has become an Act of Parliament,
As to the old duchess of Norfolk, some say she shall die, others that she shall keep perpetual prison, like her son Lord William and daughter the Countess of Bridgewater. A few days will show. All her goods are already confiscated, and are of marvellous value, 400,000 or 500,000 cr [crowns]. Norfolk is greatly interested, since the greater part came to her through his late father; yet the times are such that he dare not show that the affair touches him, but approves all that is done.
In a post script to his letter the ambassador writes that he has just heard the Queen is dead, only eighteen months after her marriage. His source reports that she was followed immediately by Jane Rochford and both women made a suitably dignified exit, and are to be buried under the floor of the Tower Church of St. Peter-ad-Vincula close to the likewise decapitated bodies of Katherine's cousins Anne and George Boleyn.
Ottwell Johnson was present at the scaffold this morning, and is mulling over what he will say in his next letter to his brother John in Calais. He will keep it brief. He will write that the Queen, after telling the onlookers that she felt justly condemned – having sinned against God in breaking all His commandments – had asked those present to pray for the preservation of the King. She made a good end, thinks Ottwell. There are whispers about town that the Queen spoke of her love for Master Thomas Culpeper, but witnesses say not.
Queen Katherine's uncle of Norfolk, whose efforts had more than likely brought her to Court in the first place, is conveniently ill today, but his son was present as they snatched his cousin's life away. Perhaps one day, in the not too distant future, his turn will come.
It looks as though the Dowager Duchess and her daughter will be allowed to live but face life imprisonment. Only time will tell whether the King will find it in his heart to release them – but things are not looking very promising.
You can read Marilyn's previous articles at:-
RIP Queen Katherine Howard