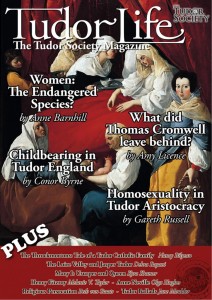 Tudor Life, the monthly magazine of our sister site The Tudor Society, is out now and this month's theme is "vulnerability". Articles include:
Amy Licence – Cushions and Tabernacles: What Thomas Cromwell left behind.
Laura McCosker – Butchery or Business? The Guild of the Barber Surgeons of Dublin, 1446
Conor Byrne – Childbearing Women in Tudor and Stuart England.
Gareth Russell – Homosexuality in the Tudor Aristocracy
Anne Barnhill – Women: The Endangered Species?
Nancy Bilyeau – The Throckmortons and the Dawn of the English Catholic
Debra Bayani – The Loire Valley and Jasper Tudor
Gareth Russell – Elizabeth I and Thomas Seymour
Melanie Taylor – Henry Fitzroy – 23rd July 1536
Kyra Kramer – Mary I: Usurper and Queen
Beth von Staats – Henrician Religious Persecution
Jane Moulder – Tudor Ballads
Olga Hughes – Anne Neville: A Cinderella Story
You can view a sample 'taster' over at The Tudor Society – click here – and you can enjoy the whole magazine, along with monthly historian talks, weekly videos, weekly quizzes and much more, by becoming a Tudor Society member. Find out more at https://www.tudorsociety.com/.