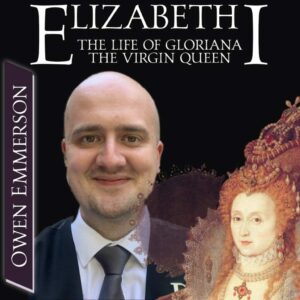 It is often said that Elizabeth I was happy to draw comparisons between herself and her father, calling herself "the lion's cub", and that she chose to distance herself from her mother, Anne Boleyn, but is that true?
In his talk, for my online event "Elizabeth I: The Life of Gloriana, the Virgin Queen", Dr Owen Emmerson explores Elizabeth I's Boleyn connections and how she made reference to her Boleyn roots.
It's a fantastic talk.
Do register now to be part of the event. It starts in just 5 days! See all the details and register at https://claireridgway.com/events/elizabeth-i-the-life-of-gloriana-the-virgin-queen-online-event-7-16-september-2022/
Dr Owen Emmerson is the Castle Historian and an Assistant Curator of Anne Boleyn's childhood home of Hever Castle.
He completed his doctoral research on the abolition of corporal punishment at Sussex University.
In 2021, he published his first book entitled The Boleyns of Hever Castle, with co-author Claire Ridgway, and he has since published Becoming Anne with Kate McCaffrey.
He has appeared in several documentaries on the Tudor Era, including the three-part BBC docudrama "The Boleyns: A Scandalous Family" and a My5 documentary "Lady Rochford" on Jane Boleyn. He is also the co-founder of Hever Castle's online subscription site "Inside Hever Castle".