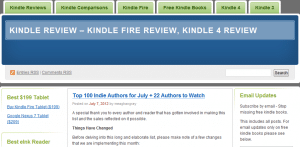 For the second month running, I'm in the list of IReaderReview.com's Top 100 Indie Authors! It is an honour to have my name listed with some of my favourite authors and also to be one of only two non-fiction authors on the list.
The list is based on the previous months' book sales, so it is you I have to thank for buying The Anne Boleyn Collection and The Fall of Anne Boleyn: A Countdown – thank you!
I have been blown away by the support I have received and please know that I am eternally grateful. I feel truly blessed to be able to research the Boleyns and Tudor history on a full-time basis.
You can see the Top 100 list at Top 100 Indie Authors for July 2012. I'm at 77!