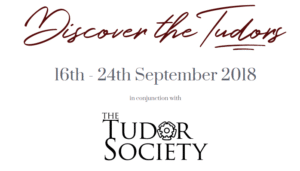 I'm just doing last minute packing, i.e. running around the house like a headless chicken, because tomorrow I fly to the UK to co-lead the Discover the Tudors tour with my good friend, Philippa Lacey Brewell of British History Tours.
The tour starts on Sunday and lasts until 24th September so plenty of Tudor talk for me! I'll be in my element! We get to visit 12 historic venues and hear three expert speakers (well, I get to hear two as I'm one of them!), as well as having private guided tours of the places. Oh and lots of yummy food too, plus the all-important gift shops – you really can't ever have enough Tudor souvenirs.
As the tour is in association with the Tudor Society, I'll be keeping a diary of what we get up to on the tour over on the Tudor Society website at https://www.tudorsociety.com/ as public posts. That way, you can live vicariously through me. I'll be sharing links to the posts here on the Anne Boleyn Files, so don't worry, you won't miss them.
I'm buzzing! I'm not sure I'll get much sleep tonight!
By the way, I'm co-leading two more tours in 2019 – The Anne Boleyn Experience in May and the Executed Queens Tour in July. You can find out all about them at https://www.britishhistorytours.com/history-tours.