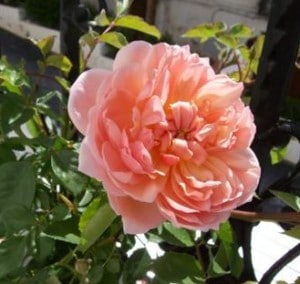 Romance may not be something you associate with King Henry VIII – tyranny: yes, romance: no – but Henry could be very romantic at times. How do I know? Well, I've read the love letters that he sent to Anne Boleyn and they are beautiful.
Here are some lovey dovey extracts from the King of Romance:-
"It is absolutely necessary for me to obtain this answer, having been for above a whole year stricken with the dart of love, and not yet sure whether I shall fail of finding a place in your heart and affection…"
"And to cause you yet oftener to remember me, I send you, by the bearer of this, a buck killed late last night by my own hand, hoping that when you eat of it you may think of the hunter…" – Now that's what you call romance!
"Written by the hand of that secretary, who in heart, body, and will, is, Your loyal and most assured Servant,
H. aultre A.B. ne cherse R"
The A.B at the bottom of the letter was in a heart – cute!
"MY MISTRESS & FRIEND, my heart and I surrender ourselves into your hands, beseeching you to hold us commended to your
favour…"
"…to remind you of this sometimes, and seeing that I cannot be personally present with you, I now send you the
nearest thing I can to that, namely, my picture set in a bracelet, with the whole of the device, which you already know, wishing myself in their place, if it should please you."
And those are just a few romantic extracts, his letters are full of endearments and REAL feeling too. He really did love Anne.
You can read all of Henry VIII's love letters to Anne Boleyn on our Love Letters page and they also feature in "Love Letters: 2000 Years of Romance" with letters from Charles Dickens, Charlotte Brontë, Admiral Nelson, Oscar Wilde, and Mervyn Peake. Click here for more information on that book.
Now, before you jump on me (were you going to?) and say that I should not spend my precious time defending such a monster, let me make just one point. Henry may have been a monster in many ways, but Catherine of Aragon and Anne Boleyn, two highly intelligent women, loved him passionately. Catherine never stopped loving him and fought for her marriage, and Anne waited seven years to marry him. It would be questioning their intelligence if we make Henry out to be nothing but a monster, don't you think?
Happy Valentine's Day to you all!
On this Day in History
1539 – Trial of Sr Nicholas Carew. He was found guilty of treason, after being implicated in the Exeter Conspiracy, and sentenced to death. Carew was executed on the 3rd March 1539 at Tyburn.
1547 – Henry VIII's coffin was taken to Windsor for burial after resting overnight at Syon Abbey. Apparently, some liquid leaked out of it on to the floor at Syon and this was thought to fulfil the prophecy made by Franciscan friar William Peto in 1535. He had preached in front of the King at Greenwich that "God's judgements were ready to fall upon his head and that dogs would lick his blood, as they had done to Ahab."
1556 – Thomas Cranmer was degraded from his office of Archbishop of Canterbury for heresy.