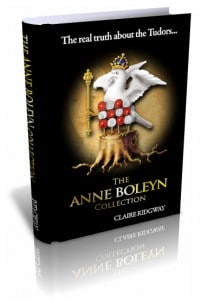 The 17th February 2012 marks the three year anniversary of The Anne Boleyn Files, which I can't quite believe! Wow, where did all that time go? Anyway, Dr Linda Saether, who has been following us right from the start, had the wonderful idea of publishing a book to celebrate the anniversary – "The Anne Boleyn Collection" was born!
I'm still working on my book on the Boleyns, so don't worry, but Linda's idea was to put together the most popular articles from the last three years and publish them in a book format. I've done this but I've actually extensively reworked them and also included some new articles. The result is a 260 page paperback called "The Anne Boleyn Collection" and here is the blurb…
The Anne Boleyn Collection Blurb
The Anne Boleyn Collection – A collection of fascinating articles on Anne Boleyn, Henry VIII and Tudor history
Written by Claire Ridgway
Should Anne Boleyn be pardoned and reburied as Queen?
Anne Boleyn and "The Other Boleyn Girl"
Did Anne Boleyn dig her own grave?
The Six Wives' stereotypes – are they right?
Did Anne Boleyn commit incest with her brother?
"The Anne Boleyn Collection" brings together the most popular articles from top Tudor website The Anne Boleyn Files. Articles which have provoked discussion and debate. Articles that people have found fascinating. Written in Claire's easy-going style, but with an emphasis on good history and sound research, these articles are perfect reading for Tudor history lovers everywhere. Discover the REAL truth about the Tudors.
Coming Soon!
The book will be released in March 2012 in paperback and also as an ebook for your Kindle or e-reader. You can subscribe to our mailing list to be kept informed by filling in your name and email in the Subscribe Now box in the left hand menu bar or by going to https://www.theanneboleynfiles.com/free-report/. You'll also receive a 12 page report, book list and primary sources list.
I hope you're as excited as I am!