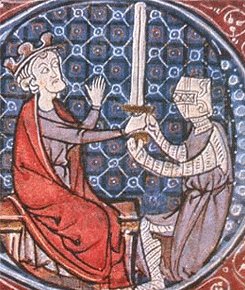 I know that I said the next myth-busting article would be on Anne Boleyn's roots and family tree, but that will be next week. Today, we have a guest article from Anne Boleyn Files visitor Teri Fitzgerald regarding two of the men who were executed in May 1536 as a result of the fall of Anne Boleyn.
Teri and I have been corresponding for a while on this issue and digging through the primary sources, so I have also added some notes of my own to Teri's article. Thank you so much for this enlightening article, Teri. Over to Teri…
Since Claire is writing on the subject of Anne Boleyn myths it seems timely to investigate a myth surrounding two of Anne's co-accused.
It appears that neither Henry Norris nor William Brereton were ever knighted. How could this be true? These men were so close to the king, especially Norris, who was Groom of the Stool.
Attempting to find the truth of the matter has given me so much respect for the hard work and painstaking attention to detail that historians must undertake to write their books and articles. I'm neither a writer nor a historian, merely an enthusiastic amateur. Thanks to Claire for her invaluable help, as always.
So, what proof do we have that these men were not knighted? A search of my own bookshelves shows that there are some differences between historians/authors. The majority, however, describe the men as simply Henry Norris and William Brereton.
Listed below is a summary of my findings and Claire checked her bookshelves too.
Historians/Authors
Henry Norris and William Brereton – G. W. Bernard,1 Eric Ives,2 Suzannah Lipscomb,3 Elizabeth Norton,4 John Schofield,5 David Starkey,6 Derek Wilson7 and Paul Friedmann.8
Henry Norris and Sir William Brereton – Julia Fox9 and Marie Bruce10.
Sir Henry Norris and William Brereton – Robert Hutchinson,11 David Loades,12 Alison Weir,13 Antonia Fraser14 and Norah Lofts15.
Sir Henry Norris and Sir William Brereton – Alison Weir,16 Claire Ridgway17 (Yes, I'm guilty – sorry!), Hester Chapman18 and Joanna Denny19.
The Primary Sources
Finding that there was lingering doubt over the knighthoods, I next went through several primary sources and other sources to find some clues. In the meantime, Claire went through Eric Ives' research on William Brereton20 and the chronicles by Edward Hall, Charles Wriothesley and Raphael Holinshed. Ives researched the career of William Brereton in depth, making use of a multitude of primary sources, and made no mention of him being knighted. In the chronicles, Claire found that Wriothesley referred to Norris and Brereton as "Mr" but Francis Weston as "Sir", Hall referred to them only by surname but did add a "sir" with Weston and Holinshed didn't give any titles at all.
None of the primary sources21 or other sources22 listed below refers to either man as a knight, except Shaw23 and Ormerod,24 who admits there has been some confusion in the Brereton family tree. To add to the confusion there was a Sir William Brereton25 writing to Thomas Cromwell in May, 1536, while the other William Brereton was securely locked up in the Tower.
Henry Norris' son, also named Henry, was knighted26 and it is possible that he has been mistaken for his father. I suspect the same thing has happened with regards to William Brereton being mistaken for the Sir William Brereton listed in Letters & Papers.27
The Visitations of Cheshire and Berkshire were the most valuable sources of information. They seem to be a sixteenth century version of a census and contain a wealth of information, including detailed family trees and coats of arms. They helped to accurately place the two men within their respective family trees.
Primary Sources
Henry or Mr. Norris and William or Mr. Brereton (and Sir Francis Weston)
Letters & Papers,vol. 10, 848, 12 May, 1536
Hall's Chronicle, p. 819
Holinshed's Chronicle, p. 797
Wriothesley's Chronicle, p. 36
Henry Norris
Visitation of Cheshire in the Year 1580, Made by Robert Glover, Somerset Herald, ed. J. P. Rylands, 1882
William Brereton
The four visitations of Berkshire made and taken by Thomas Benolte, Clarnceuc, anno 1532; by William Harvey, Clarnceux, anno 1566; by Henry Chiting, Chester herald, and John Philipott, Rouge dragon, for William Camden, Clarenceux, anno 1623; and by Elias Ashmole, Windsor herald, for Sir Edward Bysshe, Clarenceux, anno 1665-66 (1907), vol. I
Sir William Brereton
George Ormerod, The history of the county palatine and city of Chester, 1819, vol. II, p. 377
Ormerod, vol. III, p. 51
Other Sources
Henry Norris
Dictionary of National Biography, 1895, vol. XLI
Royal Berkshire History: Norris Family
Royal Berkshire History: Henry Norris (d. 1536)
Royal Berkshire History: Sir Henry Norris, (1525-1601)
Neither Henry Norris nor William Brereton listed
Wynkyn de Worde, The Noble Tryumphant Coronacyon of Quene Anne, Wyfe unto the Most Noble Kynge Henry VIII
William Brereton – Listed with Knights Bachelor, 1513
William A. Shaw, The Knights of England. A complete record from the earliest time to the present day of the knights of all the orders of chivalry in England, Scotland, and Ireland, and of knights bachelors, incorporating a complete list of knights bachelors dubbed in Ireland (1906), vol. II, p. 39
Teri's Conclusion
In my opinion, Letters & Papers,28 the contemporary chronicles29 combined with the Visitations of Berkshire and Cheshire,30 carry a great deal of weight and I'm now convinced that neither Norris nor Brereton were ever knighted. I'll leave it up to the reader to make up their own mind. What do you think?
Update and Note from Claire
While looking for something else in "The Life of Cardinal Wolsey"31 by George Cavendish, Wolsey's gentleman usher, I found that in "The Life of Cardinal Wolsey: Volume I" Norris was referred to as "Sir Henry Norris, Grome of the Stole" and "Sir Harry Norris", and in the accompanying notes to George Cavendish's "Metrical Visions" editor Samuel Weller Singer referred to "Sir Henry Norris". Brereton, however, was described as "Master Brereton" and "William Brereton, Esq." Cavendish knew Norris and tells of the story of Norris offering Wolsey his own chambers when the Cardinal was evicted from his own, so surely he would know of his rank.
Historian Leanda de Lisle, in her research for her book Tudor found that Sir Henry Norris held the post of Black Rod (appointed Oct 1526) which was then an office of the Order of the Garter, so he was definitely a knight. See Leanda's comments below this post for her references for this.
Sources and Notes
G. W. Bernard, Anne Boleyn: Fatal Attractions, 2010
Eric Ives, The Life and Death of Anne Boleyn: 'The Most Happy', 2005, and Eric Ives, Court and County Palatine in the Reign of Henry VIII: The Career of William Brereton of Malpas. Transactions of the Historic Society of Lancashire and Cheshire 123 (1971): 1–38
Suzannah Lipscomb, 1536: The Year That Changed Henry VIII, 2009
Elizabeth Norton, Anne Boleyn: In Her Own Words & the Words of Those Who Knew Her, 2011
John Schofield, The Rise & Fall of Thomas Cromwell: Henry VIII's Most Faithful Servant, 2011
David Starkey, Six Wives: The Queens of Henry VIII, 2004
Paul Friedmann, Anne Boleyn: A Chapter of English History, 1527-1536, 1884
Derek Wilson, Hans Holbein: Portrait of an Unknown Man, rev. ed. 2006
Julia Fox, Jane Boleyn: The Infamous Lady Rochford, 2007
Marie Bruce, Anne Boleyn, 1972
Robert Hutchinson, Thomas Cromwell: The Rise and Fall of Henry VIII's Most Notorious Minister, 2008
David Loades, The Six Wives of Henry VIII, 2009
Alison Weir, The Six Wives of Henry VIII, 1991
Antonia Fraser, The Six Wives of Henry VIII, 1992
Norah Lofts, Anne Boleyn, 1979
Alison Weir, The Lady in the Tower: The Fall of Anne Boleyn, 2009
Claire Ridgway, The Fall of Anne Boleyn: A Countdown,2012
Hester W. Chapman, The Challenge of Anne Boleyn, 1974
Joanna Denny, Anne Boleyn: A New Life of England's Tragic Queen, 2007
Eric Ives, Court and County Palatine in the Reign of Henry VIII: The Career of William Brereton of Malpas. Transactions of the Historic Society of Lancashire and Cheshire 123 (1971): 1–38
Wynkyn de Worde, The Noble Tryumphant Coronacyon of Quene Anne, Wyfe unto the Most Noble Kynge Henry VIII
William A. Shaw, The Knights of England. A complete record from the earliest time to the present day of the knights of all the orders of chivalry in England, Scotland, and Ireland, and of knights bachelors, incorporating a complete list of knights bachelors dubbed in Ireland (1906), vol. II, p.39
Ibid. – There is a William Brereton who was listed among Knights Bachelor in September 1513. The question is which William Brereton? I suspect it was the man writing to Cromwell in May 1536.
George Ormerod, The history of the county palatine and city of Chester: compiled from original evidences in public offices, the Harleian and Cottonian mss., parochial registers, private muniments, unpublished ms. collections of successive Cheshire antiquaries, and a personal survey of every township in the county; incorporated with a republication of King's Vale royal, and Leycester's Cheshire antiquities. (1819) vol. II, p. 377
Ormerod, Vol. III, pp. 47-49, 449 (see notes on William Brereton confusion on page 48.)
Letters & Papers, vol. 10, 825, 8 May, 1536; Letters & Papers, vol. 10, 929(iii), 20 May, 1536; Royal Berkshire History: Norris Family ; Royal Berkshire History: Henry Norris (d. 1536); Royal Berkshire History: Sir Henry Norris, (1525-1601); 

Dictionary of National Biography, 1895, vol. XLI, pp. 121-124

Letters & Papers, vol. 10, 848, 12 May, 1536; 

Letters & Papers, vol. 10, 825, 8 May, 1536

Letters & Papers, vol. 10, 929(iii), 20 May, 1536
Hall's Chronicle, p. 819; 

Holinshed's Chronicle, p. 797; 

Wriothesley's Chronicle, p. 36

The four visitations of Berkshire made and taken by Thomas Benolte, Clarnceuc, anno 1532; by William Harvey, Clarnceux, anno 1566; by Henry Chiting, Chester herald, and John Philipott, Rouge dragon, for William Camden, Clarenceux, anno 1623; and by Elias Ashmole, Windsor herald, for Sir Edward Bysshe, Clarenceux, anno 1665-66 (1907), vol. I, p. 186 – see http://archive.org/stream/fourvisitationso5657ryla#page/186/mode/2up
George Cavendish, The Life of Cardinal Wolsey, Vol. I, 1825, p172 and 329, and Vol. II, 1825, p28, p33