Posted By Claire on October 27, 2011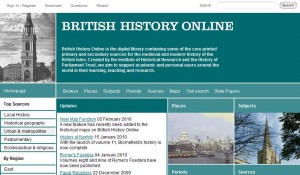 I've just received an email from British History Online (Institute of Historical Research in London), a wonderful website which I use on a daily basis to browse primary sources, and they need your help.
They're running a test on the next generation of historical research interface from today until next Thursday (3rd November) which consists of 8 quick tasks. It should only take around a minute to complete and just requires participants to click somewhere on the screen to signal their preference. It will really help the Institute in making their website and sources easier to navigate and browse.
Please spare a minute of your time to help this wonderful website. Thank you!
The test can be found at http://verifyapp.com/u/0732f77e200907d46fe5c9979307220a64173e4f