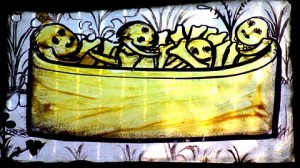 Last night I watched the third and final episode of historian Helen Castor's series "Medieval Lives: Birth, Marriage, Death", and this week Castor focused on death in the medieval era. Here is an article based on the notes I wrote as I watched it.
Castor began the episode by taking us back to 3rd November 1459 when Sir John Fastolf, who was aged nearly 80, lay dying at Caistor Castle. His room would have been filled not with doctors, but priests, and those last days were full of prayers, not prescriptions and medicines. Death was not the end, it was the doorway to everlasting life, and it was always close at hand. Fastolf had lived to a ripe old age, but he was still concerned about dying a good death. Death shaped people's lives in the medieval period and was the last great rite of passage.
Fastolf was a friend of the Paston family of Norfolk and we know about him because of the family's letters which we still have today. He owned Caistor Castle in Norfolk and was a wealthy man. We know from the Paston Letters that John Paston claimed to be Fastolf's heir and that there were disputes over his will. The legal documents are kept at Magdalen College, Oxford, and they include statements from those who were with Fastolf in his final days and they give us a picture of a medieval death, taking us right to his bedside. We know that he was visited by chaplains, servants, a barber who shaved him, and physicians, but the most constant presence was that of the priests. They said mass and also read from a book of devotions. Medieval people needed a priest in their last moments because death was seen as a transition from the mortal life of the body to the eternal life of the soul.
Castor explained how people's understanding of death was shaped by the Catholic Church. The Church taught that the soul was eternal and that one day God would judge which souls could go to Heaven and which were to be sent to Hell. Few people at this time could read, so wall paintings in churches were used to educate people. St Thomas's Church in Salisbury has "The Doom Painting" – see http://www.stthomassalisbury.co.uk/content/pages/documents/1296212454.pdf – which tells the story of Judgement Day at the end of time, when Jesus Christ will return in glory to judge the quick and the dead. At Christ's right hand are the shrouded figures of the dead, leaving their graves and being helped on their way to Heaven by angels. To Christ's left are the souls of the damned, being dragged to the mouth of Hell. The inscription on the painting in the area representing Hell reads "Nulla est Redemptio", or "there is no redemption".
The problem was, according to Castor, that only the "saintly", the actual saints, could be confident that they were going to Heaven, because of their lack of sin, and the Bible did not give a clear explanation of what happened to someone's soul between death and the Last Judgement. There was the idea that sin could still be purged after death, and, in the 12th century, the theological question was answered with the emergence of the idea of Purgatory. In 1254, Pope Innocent IV adopted Purgatory as an official doctrine. Carl Watkins from the University of Cambridge explained to Castor that Purgatory was seen as a place of darkness, fire and terror, where sins were purged and souls were burnished before being given passage to Heaven. It was a period of punishment which was proportional to the person's amount of sins. It was even thought that the punishment fit the crime, for example, a person who had been greedy with money may have molten gold poured down his throat in Purgatory. It was like Hell, but it was only temporary.
People could take steps during their lifetime to make their time in Purgatory shorter. The first way to do this was to be good and Castor commented that Henry VII, when he lay dying in 1509, had a lot to worry about. He had been a ruthless, paranoid King who ruled with fear. He had executed people and blackmailed people. If death was indeed a doorway, Henry was probably worried where it was a doorway to. This question would have worried him, as it worried his subjects. However, there was still a chance to help sinners like Henry, even in their dying days. Bishop John Fisher was with Henry for 27 hours and described how the King fixed his gaze on the crucifix, lifted his head and hands to it, and then took it and beat his chest with it. Fisher emphasised that the King had a good death, that he showed contrition for his sins and received absolution through the last rites.
Castor spoke to Reverend Colin Simpson who performs the last rites in the diocese of Peterborough. He explained that if the person is conscious he would talk to them about their life and their regrets, he would also pray with them and lay on hands, and then anoint them as a blessing, as a seal of love and forgiveness. If the person was capable of having communion then he would also do this with them. This would have a calming effect on them, and also their family as they all shared communion. Communion is a link between the living and the dead, and Castor commented on how this link went on because there would then be a funeral to organise.
The funeral rites went from the Placebo, the evensong on the night before the funeral, to the Requiem Mass which was sung just before burial. The central focus was always the life to come. Henry VII had had a 'good death' and he also wanted the best possible send-off. A life-sized effigy was made and visitors to Westminster Abbey can see his death mask in the museum there. It appears austere and haunting now, but at his funeral his effigy would have been dressed in sumptuous robes and his head crowned. It would have been laid on cushions of cloth of gold on top of the coffin to represent the majesty of the anointed sovereign, which endured even on his final journey to the grave. The coffin was processed to Westminster Abbey, masses were said and a nobleman dressed in the King's armour rode on a warhorse up to the final altar, where he was stripped of his armour and weapons and these were offered to God as symbols of Henry's earthly power.
Castor then moved on to talk about the Paston family. In 1465, Agnes Paston wrote of her concern for her son John because of the ongoing dispute over Fastolf's will. She had cause to worry because seven months later John died very suddenly in London at the age of 44. His widow, Margaret, organised a splendid funeral for him. A priest and twelve pall bearers processed with his coffin for six days, as John's body was carried over 100 miles from London to St Peter's Hungate in Norwich. 38 priests prayed over his corpse. While the funeral took place at St Peter's, the burial and funeral feast were being prepared for at Bromham Priory. So many animals were needed for the feast that it took two men three days to flay them. Castor also described how there were so many candles in the church that windows had to be opened to allow the fumes from the tallow to escape. Margaret Paston made notes regarding the funeral expenses and they came to a total of £250, a huge amount which was more than a year's income from the Paston estates. However, she wanted the best possible start for her husband in Purgatory.
Castor then went on to talk of the practical ways the living could help the dead. She visited the Museum of London which houses the skeletons of over 17,000 people. Professor Roberta Gilchrist of the University of Reading explained that dead bodies were usually washed, stripped and then wrapped in a white shroud. However, there is evidence of clothed burials and even medical items being buried with a person. She showed Castor the skeleton of a mature man who died in his mid 40s and who was buried wearing a hernia truss. The buckles of this truss are still visible and his hands are placed over the truss, keeping it in position. Why wasn't this removed? Well, although it was believed that when you were resurrected you were resurrected in a perfect body at the age of 33, the age that Christ died on the cross, but that you used your present body in Purgatory. This man needed his hernia truss to make his time in Purgatory more comfortable. Gilchrist explained that the medical items found with bodies tend to be those concerning mobility, to help them walk. Purgatory was seen as a real physical place which people physically experienced. They needed to be mobile.
Another way that the living could help shorten the time the dead suffered in Purgatory was by prayer and by saying masses for them. Wills were a way of ensuring that a person was remembered by masses and prayers, and they were a way of the dead keeping a hold on the living. Margaret Paston made her will in 1482 when she was sixty years old. She was a wealthy widow, the matriarch of the Paston family, and she made a very practical will. Her possessions were divided up between her children and servants, and she left detailed instructions for her funeral. She gave instructions regarding candles being burned at the church at Maltby, she described the marble stone that was to be used for her tomb and she gave instructions for the tomb inscription, so that it reminded those who visited it to pray for mercy for her soul. The best way to shorten one's time in Purgatory was to leave money for masses, so Margaret left money for a priest to say a mass for her soul at Maltby Church every day for seven years. Mass was seen as the greatest help because it was the holiest and most sacred service. The bread and wine were the body and blood of Christ, they were Christ's sacrifice for sinners. Kings would leave as much money as they possibly could for masses. Henry VII's will, which is now found in the National Archives, is the longest will of an English king. In it, he leaves money for a chapel for Westminster Abbey where he and his wife will be laid to rest, money for copper and gilt effigies, and money for priests to say masses for ever. He also left a chantry, which was funding for a college of priests to say masses for his soul until the end of time. As extra insurance, special masses were also to be sung as soon as possible after his death, to "turbo charge", as Castor said, his journey. 1500 were to be said in honour of the trinity, 2500 in honour of the five wounds of Christ, 2500 in honour of the five joys of Our Lady, 450 in honour of the nine orders of angels, 150 in honour of the Patriarchs, 600 for the Apostles and 2300 for all the saints – a total of 10,000 masses.
Money poured into church coffers as people paid for masses and for chantries. The building of chantry chapels shaped churches both spiritually and physically.
Another good way of helping yourself after death and helping others, was to leave money for the foundation or support of charitable institutions. In 1249, Walter Suffield, Bishop of Norwich, founded Norwich Great Hospital, which was built on his doorstep, right next to the Bishop's palace. It received the sick and fed the poor, and was also a Christina community in which people could die well. Carol Rawcliffe of the University of Anglia showed Castor the Bishop's will, which she referred to as his "passport to Paradise". On it was his seal and the seals of those who witnessed it. He left money for masses, for poor relief, for his servants, and for institutional charity, i.e. the hospital. Leaving money to charities was mutually supportive – the dead person helped the charity and the poor people who benefited helped the dead person in the afterlife through their prayers. Rawcliffe talked about the parable of Lazarus, a beggar, and the rich man, or Lazarus and Dives. Bishop Suffield did not want to be Dives, the poor mattered to him because their prayers would ensure his place in Heaven.
Castor then examined the register of those who gave money, land or possessions to the leper hospital of St Mary Magdalene at Gaywood in Norfolk. It was like the Book of Life in that prayers and masses were said for these people. It was put on the altar at mass and each name would be read out about once a year as the book was read from start to finish.
Death was central to living. Life was short, it was over quickly, so people had to concentrate on the next life and make provisions for it. But what about sudden deaths? Well, a sudden death which was unprepared for was a terrifying prospect for people. However, there was still heavenly help. It was believed that if you looked at an image of St Christopher each day then you wouldn't die a bad death that day. This is why there were so many wall paintings of him in churches, more than any other saint. The one at Paston Church showed him holding the Christ child. The Christ child was balancing the weight of the world in his left hand and blessing St Christopher with his right hand. The image was painted opposite the church door so that people saw it when they came into church. It warded off death. Death really was part of the fabric of daily life as people had to cross graveyards to get to church and walk past tombs in church.
Castor visited Holy Trinity Church in Rothwell, Northamptonshire, which has a crypt containing over 1500 remains. Nobody knows for certain why the bones are there but they are in a church and are therefore the dead among the living. See Scientists solve mystery of bone-jumbled medieval crypt: Chapel containing hundreds of skeletons was a place of pilgrimage.
But what happened when too many people died?
In 1348, the Black Death (the Pestilence, the Great Mortality) hit England. By the end of the following year it had killed around half of the population. It was like the end of the world and all of a sudden a good death was impossible. It was so sudden and all the usual comforts were gone because priests were dying too and so were unable to minister to people dying. The Bishop of Bath and Wells gave instructions for people to confess to each other (even to women!) if there was no priest available. These special measures were essential because sin caused suffering and people needed to be absolved. The Bishop of Winchester, William Edendon, believed that human sensuality produced a multitude of sins which resulted in the plague, which he saw as divine judgement. He urged congregations to pray for souls and to confess their sins. Every Friday, the people and clergy of Winchester processed around the marketplace with bowed heads and feet reciting the Lord's Prayer and Hail Mary. Edendon granted all who did it an indulgence of forty days, meaning that their time in Purgatory would be forty days less.
Norwich was one of the worst places hit by the plague. Around 2/3 of the population died and epidemics carried on for more than a century. The plague was particularly virulent in 1479 and the Paston family were hit. Margaret Paston's son, Walter, who had just graduated from Oxford, died, as did Agnes (Margaret's mother-in-law) and Walter's brother, John.
Art and literature were inspired by death. Cadaver tombs, showing effigies of corpses instead of fine effigies, showed the reality of death versus the splendour of life. A popular story was that of the 3 living and the 3 dead. It is depicted in a wall painting at Paston Church and shows three kings meeting three dreadful skeleton apparitions. The apparitions tell the kings that they were once the king and that the kings will eventually be them. The apparitions were visions of the kings' own futures; power and riches meant nothing in the face of death.
In around 1400, a monk from Byland Abbey recorded ghost stories about souls who had not made it to Purgatory because they had been excommunicated or they were unbaptised. Such stories were chilling but were a good way of teaching people about purgatory and the importance of being baptised etc. These stories were different, though, because they were told by locals and contained elements of folklore. In one story, a man who was on pilgrimage to the shrine of St James at Compostella saw a ghostly procession of dead people riding on animals. At the end of the procession was a bababy crawling. He asked the baby why he was crawling and the child told him it was his own son who died unbaptised. The man baptised and named the baby and the child jumped up, stood erect and started walking. This story told people that the unbaptised cannot rest. Castor explained that although these stories were of fear, terror and torment, they were balanced with "soft edges", the idea that there was a second chance in death because souls could still be helped by the living, although they couldn't help themselves.
But what if there was no family or the person had no means to pay for prayers or masses?
There was still comfort for these people. There was a special feast day for these people – All Souls' Day on 2nd November every year. This was a day when all of the souls in Purgatory who were in great need were remembered. Masses were said and bread was given to the poor, in the hope that each loaf given got a soul out of Purgatory. The night before All Souls' Day, church bells were rung to comfort the souls in Purgatory and to show that they were not forgotten.
Castor then explained that the rich in this life had to work harder in the next, they needed the prayers of the poor, who were seen as being closer to God. The rich could help the poor by giving them money, and the poor could help the rich with prayer. Therefore, works of charity helped everyone.
The system of death, though, was open to abuse. By the 16th century, reformers were accusing the Church of corruption, of feeding on the fears of congregations. People were paying for indulgences (pardons) which could shorten their time in Purgatory anything from 40 days to 40,000 years. Reformers demanded change. Although Henry VIII was Catholic, his quest for an annulment of his first marriage ended up changing the ways his people thought about death. Henry rejected the authority of Rome and this was an opportunity for Protestant reformers to challenge the Church. One of their targets was the doctrine of Purgatory, which is not mentioned in scripture and which they referred to as "vain imagination". In 1536, Henry VIII began the dissolution of the monasteries, the "powerhouses" of prayer for the dead, and wallpaintings of the Last Judgement, the story of the 3 living and the 3 dead, and St Christopher disappeared under whitewash. Henry wasn't trying to uproot doctrines and he still died a Catholic who left money for masses to be said for his soul, but he had set the Reformation in motion. His son, Edward VI, took things further in his reign by making England a Protestant country and passing the Act of Dissolution of the Chantries. His was only a six year rule but it was one of enormous change.
Castor ended the programme by describing Edward VI's death, which was in stark contrast to that of his grandfather, Henry VII. Purgatory and the chantries were now gone and salvation was by faith alone. Edward faced death surrounded by his doctors and with his friend, Henry Sidney. His death was an exemplary Protestant end and he died uttering the words "I am faint, Lord have mercie upon me, and take my spirit."
Death was never the same again.
Birth, death and marriage had all been defined by the Catholic Church. Although its teachings constrained people, they also offered real comfort. Now, today, we have no certainty or structure when it comes to these rites of passage, we have to search for our own meanings to define them and that, as Castor said, is no easy task.
You can see the episode on YouTube at http://youtu.be/bDthJstjrhE