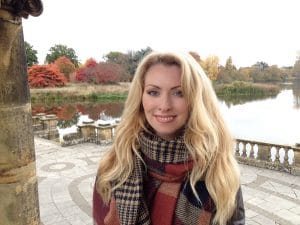 I've been in contact with Hayley Nolan via Twitter because I've been following some of the vlogs she's been sharing there on Anne Boleyn, the Boleyns and Henry VIII – a shared interest!
Hayley created the History Review podcast series as a platform to discuss a new modern analysis of Anne Boleyn and Henry VIII. She recently shot an exclusive video for The Anne Boleyn Files inside Anne Boleyn's childhood home of Hever Castle. Here, she touches on just some of the myths and misconceptions tackled in the podcast series.
Over to Hayley…
Hayley says: "I began researching Anne Boleyn after finding myself compelled to understand Henry VIII's erratic behavior throughout their relationship. I was desperate to understand how the King could go from a 7 year fight in the name of all-consuming love and desire… to her falling so extremely from his affections to the point that he would have her head beheaded. No historian up until this point had given a sufficient enough answer more than the simplified story book version of "she didn't give him the son he wanted, and so off with her head!" That just didn't cut it (excuse the pun) with me; these were real people, there will have been more to it than that… of course I didn't realise at that point just how much more to it there actually was! But more than the revelations that Henry VIII was most definitely suffering from the mental illness Sociopathy as a result of a traumatic childhood (exacerbated by several jousting head injuries) I was absolutely shocked to find that the real Anne Boleyn could not have been further removed from the heartless, scheming sex-bomb of a social climber that we've repeatedly been told she was! And so, my research got somewhat sidetracked by understanding – and then hell bent on revealing to the general public – just exactly who the real Anne Boleyn was!
As an outlet for my passionate Tudor rants I created the free podcast series "The History Review", available on iTunes and Soundcloud.com where I go into full detail about every aspect of both Anne Boleyn's and Henry VIII's characters, psyche and story. For links to the full series you can visit http://www.thehistoryreview.com/. The Tudor videos continue over on Twitter https://twitter.com/thehayleynolan where I also host the video series #HayleyVlogsHistory so feel free to come follow the historical fun! It'd be great to chat with you all!"