Happy Kings' Day!
Posted By Claire on January 6, 2015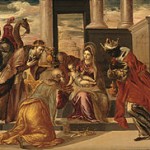 Today is Kings' Day or the Feast of the Epiphany, a commemoration and celebration of the visit of the Magi to the Christ child. Happy Kings' Day!
You can read more about how this day was celebrated in Tudor times in my article over at The Tudor Society – click here to read that now.
Painting: Adoration of the Magi by El Greco.