Friday 13th and Tudor Superstitions
Posted By Claire on February 13, 2015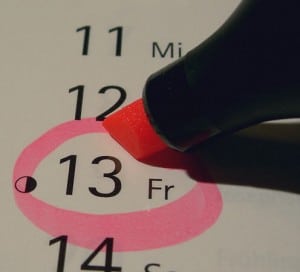 I've just realised that today is Friday 13th, a day which is considered to be unlucky by those who are superstitious.
I'm not at all superstitious but I do find superstitions interesting so I researched Tudor superstitions a few years ago. Click here to read my article Tudor Superstitions.
Author Robert Parry also wrote a wonderful article on the subject for the Elizabeth Files – click here to read that one.
Photo: "Freitag der 13. im Kalender" by W.J.Pilsak.Licensed under GFDL via Wikimedia Commons.