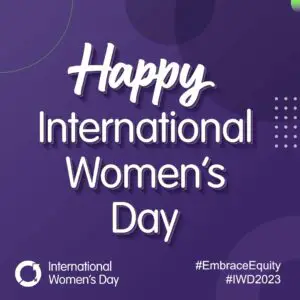 Today is International Women's Day. Here's what the International Women's Day website says about this year's theme, which is #EmbraceEquity:
"For International Women's Day and beyond, let's all fully #EmbraceEquity. Equity isn't just a nice-to-have, it's a must-have. A focus on gender equity needs to be part of every society's DNA. And it's critical to understand the difference between equity and equality. The aim of the IWD 2023 #EmbraceEquity campaign theme is to get the world talking about Why equal opportunities aren't enough. People start from different places, so true inclusion and belonging require equitable action…. Equity means creating an inclusive world… When we embrace equity, we embrace diversity, and we embrace inclusion. We embrace equity to forge harmony and unity, and to help drive success for all.
Equality is the goal, and equity is the means to get there. Through the process of equity, we can reach equality."
I will definitely be embracing equity today, as I try to do every day. Let's celebrate the women in our lives and do all we can to spread love, celebrate diversity and embrace inclusion in our rather troubled world.
I'd like to this the opportunity to thank all the women who have encouraged me and supported me in my work since I began this site in 2009, and I'd like to thank Queen Anne Boleyn and the other historical women who inspire me on a daily basis.
Find out more about International Women's Day at https://www.internationalwomensday.com/