Posted By Claire on February 16, 2022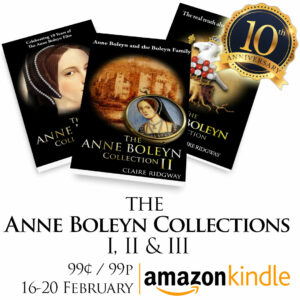 I can't believe how quickly time flies! Tomorrow is the 13th birthday of the Anne Boleyn Files website and today is the 10th anniversary of the publication of my first book, The Anne Boleyn Collection.
I have to give a shout-out and thank you to Anne Boleyn Files follower (and now my dear friend), Linda Saether, who suggested to me that I collate the most popular blog articles in a book. It was a wonderful idea and the decision to do it in 2012 has taken me on such a journey. The Anne Boleyn Collection is a best-selling book and I still get regular messages and emails thanking me for making Anne Boleyn's story so accessible.
To celebrate my book birthday, all three Anne Boleyn Collection books are 99c/99p on Kindle on Amazon US and Amazon UK from today until the end of 20th February – bargain! If you haven't read them, then do download them or if you have friends who are interested in Anne Boleyn then please do spread the word. I hope you enjoy them.
Here are links to help you find the books on Amazon in your country:
Thank you from the bottom of my heart for following my work and reading my books!