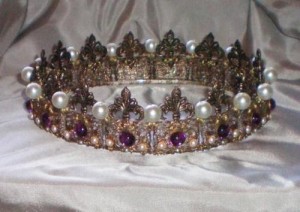 It's that time of year when people are organising their Halloween costumes and who better to go as than Anne Boleyn, a murdered Queen said to haunt Blickling Hall, Hever Castle and the Tower of London? Plus you get to spread the message about her innocence!
We can help you with your costume because we offer the following:-
If you want headdresses, crowns, tiaras or custom made items for Halloween, then please order as soon as possible because these are handmade items.
Daniela is also happy to customise items – for example, you may want rubies instead of amethysts – just email me with your requirements.
Model Melissa Mazza has just worn our Pearl Spike Headband for a photo shoot and she looks fantastic.Take a look at the slideshow below.
Thank you so much, Melissa, for sending in these photos and thank you to photographer Elisa Hyman for letting us use these photos on the site.
[slideshow id=108 w=400 h=300]