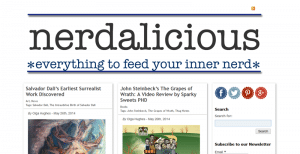 Today, Clare and I are visiting the Nerdalicious blog for an interview and book giveaway.
Thank you so much to Olga for inviting us to Nerdalicious and for posing such interesting questions about George and our book, we really enjoyed answering them. This is your second chance to win a copy of George Boleyn: Tudor Poet, Courtier and Diplomat so make sure you visit the post and follow the instructions – click here.
You can see the full schedule of our 11 day book tour at George Boleyn Virtual Book Tour 26 May-7 June 2014 and you can find out more about the book and view articles and videos over at www.GeorgeBoleyn.com.
On this day in history…
1536 – Cardinal Reginald Pole sent Henry VIII a copy of De Unitate (Pro Ecclesiasticae Unitatis Defensione). In it, he criticised the King's divorce and the trouble it had caused.
1537 – Queen Jane Seymour felt her unborn baby move for the first time. Click here to read more.
1541 – The Execution of Margaret Pole, Countess of Salisbury. Click here to read more.