Free Kindle Book – The Anne Boleyn Collection – 2 Day Promotion
Posted By Claire on July 26, 2012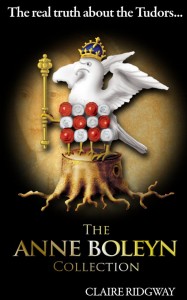 As a thank you for all the support I receive as a researcher and writer, I am offering the Kindle version of my first book The Anne Boleyn Collection for $0.00 on Amazon US, Amazon UK and Amazon's international sites today and tomorrow, the 26th and 27th July.
Click here or on the cover to download from Amazon US and the Amazon UK link is The Anne Boleyn Collection UK. You can find it on the other Amazon sites by searching for The Anne Boleyn Collection or my name, Claire Ridgway.
Now, I know that many of you will already have it (thank you!) but I would really appreciate it if you could spread the message to friends, family and Tudor history lovers you know. On the Amazon US site you can even "gift" it to people and, of course, it won't cost you a single cent. It is a great book for those new to Tudor history and is an easy read, being a collection of articles which you can just dip into.
Win a $25 Amazon gift card (or £15 for Amazon UK) by sharing this post, my Facebook posts or Tweets to do with this offer. Simply let me know what you've done in the comments below. The lucky winner will be chosen via Random.org and announced on Monday 30th July. Don't forget to pick up a copy of The Anne Boleyn Collection for yourself too!
P.S. I'd love an Amazon review if you have the time when you're finished! Thank you!