Execution of Henry Howard, Earl of Surrey – 19 January 1547
Posted By Claire on January 19, 2013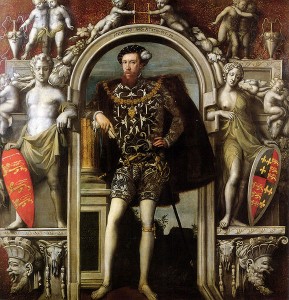 Today marks the anniversary of the execution of the man known as "Henry VIII's last victim", Henry Howard, Earl of Surrey, poet, courtier and soldier, who was executed on 19th January 1547 on Tower Hill for treason.
Surrey's father, Thomas Howard, 3rd Duke of Norfolk, had also been sentenced to death for treason but escaped the axe when Henry VIII died for his scheduled execution. Norfolk was eventually released and pardoned in the reign of Mary I.
You can read all about Surrey's downfall and the reasons for his execution in my article 19 January 1547 – Execution of Henry Howard, Earl of Surrey, where you can also read one of his poems.
I'll leave you with another of his many works:
ALAS ! so all things now do hold their peace !
Heaven and earth disturbed in no thing ;
The beasts, the air, the birds their song do cease,
The nightès car the stars about doth bring.
Calm is the sea ; the waves work less and less :
So am not I, whom love, alas ! doth wring,
Bringing before my face the great increase
Of my desires, whereat I weep and sing,
In joy and woe, as in a doubtful case.
For my sweet thoughts sometime do pleasure bring ;
But by and by, the cause of my disease
Gives me a pang, that inwardly doth sting,
When that I think what grief it is again,
To live and lack the thing should rid my pain.
Henry Howard, Earl of Surrey (c. 1516/17-1547)