Executed Queens Tour Day 1 – Coombe Abbey and a Medieval Banquet
Posted By Claire on June 10, 2012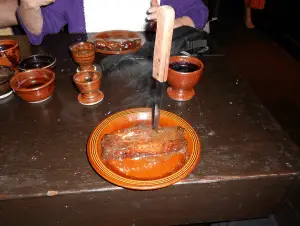 I know that many of you love to read our reports on our tours, so here's Tim's report of day one…
Well, a great day has been had so far. The group is small, but that makes the tour more special and we're all getting along fantastically well. Our coach took us up to Coombe Abbey near Coventry, and it has to be said that the Abbey is simply stunning. After a light walk around the beautiful grounds we got ready for our first "event" of the tour – the Medieval Banquet.
The banquet was simply the most wonderfully fun evening you could have with other Tudor fans. It is only fair that I share with you what we had while dining in a medieval style: vegetable broth, lamb cutlets in sauce, chicken with beautiful baked potato and the most delicious apple crumble I've ever tasted. Of course, everything was washed down with mead and red wine, and also we only had a knife to eat it all with. Delicious, and a lot of fun.
On top of all this we were entertained with singing and revelry from the performers on stage, and at one time I was even dragged up on stage to be consoled by the lovely Lady Fanny because they thought I had the plague. Maybe I hope that the photos of that will stay private… [Claire wants to know more!]
A great time and an excellent way to begin the tour.
You can see photos from day one of the tour in the following Flickr albums:
http://www.flickr.com/photos/theanneboleynfiles/sets/72157630026013775/
and
http://www.flickr.com/photos/theanneboleynfiles/sets/72157630027856331/