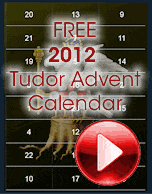 Just a quick post to remind you about the Anne Boleyn Files advent calendar which you can access via the button on the right hand menu bar.
Each day, there is a new Tudor treat so do check back on a daily basis and I hope you enjoy it.
I'm researching for new articles so I'm keeping busy!
P.S. Don't forget to enter the B Necklace Giveaway and the Christmas Competition before the closing dates!