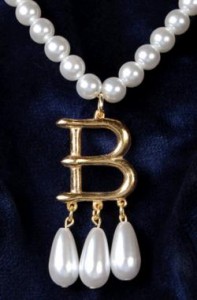 Congratulations to Kerry Lamond who has won the Anne Boleyn B necklace offered by author Sandra Byrd in our recent scavenger hunt.
Here are the answers to the questions:
How many portraits are on the wall in the Tudor Hall on Sandra Byrd's website?
– 15
How many pictures of the Tower of London are there under the Castles and Palaces page of Sandra's website?
– 9 (we also accepted the answer 2 as there were two pictures of the outside of the Tower)
Who are the three Tudor queens whose stories are told in the three Ladies in Waiting Series by Sandra Byrd?
– Anne Boleyn, Kateryn Parr and Elizabeth I.
What Christmas treat was behind the door of No. 2 on the 2012 Anne Boleyn Files Advent Calendar?
A mince pie
What is the quotation by Samuel Butler from the Quotes page on The Anne Boleyn Files?
– "Though God cannot alter the past, historians can."
How many videos has Claire uploaded on to The Anne Boleyn Files YouTube Channel?
– 11
Thank you to all those who entered.