Day 2 of The Executed Queens Tour
Posted By Claire on May 16, 2011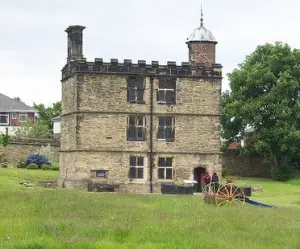 Today, the Executed Queens Tour group spent the day at Sheffield Manor Lodge in Sheffield, Yorkshire. There we saw the ruins of the manor house which once belonged to George Talbot, 6th Earl of Shrewsbury, and his wife, Bess of Hardwick, and which was also the prison of Mary Queen of Scots.
Highlights of our time there include:-
The Turret House – This is the only building on the site which is still intact and the only building in England which Mary Queen of Scots would recognise today. What we all found amazing about this building was that the decorative plaster ceilings were just as fresh as the day they were created – no restoration work had been carried out, simply a coat of white paint-
Wolsey's toilet – Yes, we saw the garderobe which Cardinal Wolsey used when he was suffering from dysentry!
Bess of Hardwick – Bess appeared to us in full Tudor costume and told us her story. She was one amazing business woman!
Mary and Bess's embroidery – We saw replicas of the embroidery created by Mary Queen of Scots during her imprisonment at Sheffield Manor Lodge and her gaoler, Bess of Hardwick. The designs were beautiful – scenes from Aesop's Fables, animals, sayings, mythical creatures…
Talks on Mary Queen of Scots's letters and embroidery
After a full day in Sheffield, we headed back to Bosworth Hall Hotel where we were joined for dinner by historian Dr John Guy and his wife, historian Julia Fox. John then spoke to us on Mary Queen of Scots and shared his research, lost letters he discovered in the archives, his views on the stereotype that Mary ruled from her heart and Elizabeth ruled with her head, his views on Darnley's murder, Mary's downfall and William Cecil's involvement in Mary's fall and execution. I will be sharing more on this when I get back, but it was a very enlightening talk and we all thoroughly enjoyed it.
The table I was on also enjoyed chatting to Julia about Jane Boleyn and the research she has done into her life and downfall. It was incredible to have two historians there to grill!
Tim has just added today's photos on to our Flickr page – see http://www.flickr.com/photos/theanneboleynfiles/sets/72157626613041425/