Day 15 of the Anne Boleyn Files Advent Calendar
Posted By Claire on December 15, 2022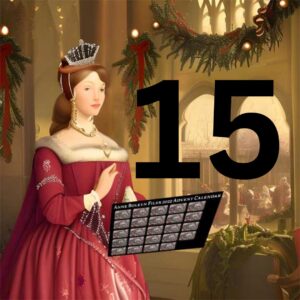 I do hope you're enjoying the Anne Boleyn Files Advent Calendar.
It's time for our fifteenth Tudor treat!
Thank you to historical novelist Loretta Goldberg for sharing an excerpt from her work in progress, an Elizabethan spy novel.
You can enjoy today's Tudor treat by clicking here, clicking on the image in this post or clicking on the site header. Don't forget to click on any days you've missed.
Here are two more treats for you:
Today's episode of "The Tudors in their own words" – click here.
Teasel's Tudor Trivia – 15 December – Tudor Haircare – click here.