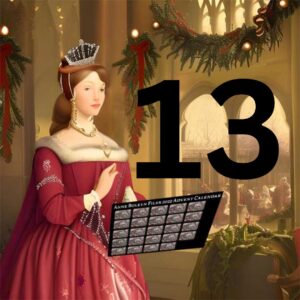 Wow, there are only 12 days until Christmas – aaaggghhh!
Yes, it's the 13th December and that means it's time for another Tudor treat from the Anne Boleyn Files Advent Calendar.
Today, we have a contribution from historian and author Dr Estelle Paranque – thank you, Estelle!
To access our Advent calendar, simply click here, or click in the image, or click on the website header. Don't worry if you've missed any treats, they're still there for you to enjoy.
And you can enjoy two further Tudor treats:
My latest "The Tudors in their own words" video – click here.
Teasel's Tudor Trivia – 13 December – Tudor silly deaths – click here.