Circa Regna Tonat – About the Throne the Thunder Rolls
Posted By Claire on May 5, 2010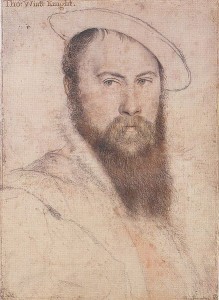 On the Friday 5th May 1536, the final arrests in the coup against Anne Boleyn were made1 – Sir Thomas Wyatt, the poet, being one of them.
Sir Thomas Wyatt and Anne Boleyn
Thomas Wyatt (1503 – 11th October 1542) was a poet and diplomat. He was born in around 1503 at Allington Castle, Kent, although the family were originally from South Haigh in Yorkshire. He was the son of Henry Wyatt, a Lancastrian supporter in the War of the Roses, who rose in favour to become one of Henry VII's Privy Councillors and a favourite also of Henry VIII. Thomas followed in his father's footsteps, entering the King's service in 1516 and becoming an ambassador in 1524. He was knighted in 1535.
In "The Early Loves of Anne Boleyn", Josephine Wilkinson writes of how it was said that Wyatt fell in love with Anne Boleyn when she first arrived at the English court in 1522. He was unhappily married to Elizabeth Brooke and it seems to have been love at first sight, for Thomas, when he saw Anne – his grandson George Wyatt, in his biography "Anne Boleigne", wrote that when his grandfather saw Anne he was "surprised by the sight thereof"2. At this time though, Anne and Henry Percy were in love.
In 1524, Wyatt became clerk of the King's jewels and would have seen Anne at court because she was a member of Queen Catherine's household. There is no real evidence that there was any relationship between Anne and Wyatt at this time and by Shrovetide 1526 Anne had a new admirer, the King. At the Shrovetide joust, Henry VIII rode out "resplendent in cloth of gold and silver, richly embroidered with a man's heart gripped in a press and engulfed in flames. The motto read declare ie nose – "declare I dare not"." The King had a new love.
Some people believe that Wyatt's poetry is evidence of a relationship between Anne Boleyn and Thomas Wyatt. For example, his riddle poem "What wourde is that that chaungeth not" has the answer "Anna", and in "The Lover Confesseth Him in Love with Phyllis", he writes of "That Brunet" which is taken to refer to Anne. Further evidence (if you believe The Spanish Chronicle!) is the story of Wyatt visiting Anne at Hever, finding her in bed, declaring his love for her, kissing her and touching her breasts and then being disturbed by stamping from upstairs from another lover!3.
Another story is told by George Wyatt – Thomas was entertaining Anne one day as she did needlework and he playfully grabbed a jewel hanging from her pocket and decided to keep it as a trophy, wearing it around his neck. When the King and Wyatt were playing bowls one day, they argued over a shot. Wyatt declared that it was his, but the King declared "Wyatt, I tell thee it is mine" as he pointed to the wood with the finger on which he wore Anne's ring. Wyatt saw the ring and replied "If it may like your majesty to give me leave to measure it, I hope it will be mine" and he took the jewel from around his neck and began to measure the cast with the ribbon. This angered the King who broke up the game and then demanded an explanation from Anne, who told him how Wyatt had stolen her jewel. 4
Whatever the truth of George Wyatt's story, Anne and Thomas Wyatt's relationship seems nothing more than a case of unrequited love. Wyatt's poem "Whoso list to hunt tells of a man (Wyatt) hunting a hind with little chance of success, and then withdrawing from the hunt because of another hunter. If we see Anne as the hind, then Wyatt is talking of withdrawing his suit of Anne because she is now the property of the King "Noli me tangere; for Caesar's I am".
To the Tower
The Chronicle of King Henry VIII of England (The Spanish Chronicle) tells of Wyatt being apprehended at the May Day joust:-
"It seems that the King sent Cromwell to tell him to have Wyatt fetched in order to examine him. When they arrived in London Cromwell took Master Wyatt apart, and said to him, "Master Wyatt, you well know the great love I have always borne you, and I must tell you that it would cut me to the heart if you were guilty in the matter of which I wish to speak." Then he told him all that had passed; and Master Wyatt was astounded, and replied with great spirit, "Sir Secretary, by the faith I owe to God and my King and lord, I have no reason to distrust, for I have not wronged him even in thought. The King well knows what I told him before he was married." Then Cromwell told him he would have to go to the Tower, but he would promise to stand by his friend, to which Wyatt answered, "I will go willingly, for as I am stainless I have nothing to fear." He went out with Richard Cromwell, and nobody suspected that he was a prisoner, and when he arrived at the Tower Richard said to the captain of the Tower, "Sir Captain, Secretary Cromwell send to beg you to do all honour to Master Wyatt." So the captain put him into a chamber over the door…"5
We just do not know exactly what date Thomas Wyatt was taken to the Tower, whether it was on May Day or whether it was on the day that Kingston first mentions him as a prisoner, around the 5th May, but whatever the date of apprehension, by the 5th May Wyatt was a prisoner and must have wondered if he'd ever see the light of day again.
In Letters and Papers, there is a letter from Wyatt's father, Sir Henry Wyatt, to Cromwell in which he writes that he:-
"Received his letter on the 10th, and thanks him for the comfortable articles therein touching his son Thomas and himself. Asks Cromwell when it shall be the King's pleasure to deliver him, to show him "that this punishment that he hath for this matter is more for the displeasure that he hath done to God otherwise," and to admonish him to fly vice and serve God better. Alington, 11 May."6
This shows us that Cromwell had written to Sir Henry regarding his son and had offered him some comfort. Sir Henry is obviously grateful for that but is worried that his son's moral conduct would be his undoing. This was not to be the case. Sir Thomas Wyatt was not mentioned in the Middlesex or Kent indictments and was not tried with Weston, Norris, Brereton and Smeaton on the 12th May. In a letter written on the 12th May to Lord Lisle, Husee writes:-
"Mr. Payge and Mr. W[y]at are in the Tower, but it is thought without danger of life"7
but Husee changes his mind in his next letter to Lord Lisle on the 13th May, where he says that
"This day, some say, young Weston shall scape, and some that none shall die but the Queen and her brother; others, that Wyat and Mr. Payge are as like to suffer as the others."8
The Bell Towre Showed me Such a Syght
On the 17th May 1536, from his prison window in the Bell Tower, Sir Thomas Wyatt witnessed the executions of George Boleyn, Henry Norris, Sir Francis Weston, William Brereton and Mark Smeaton. It is this horrific sight which he writes about in his poem "Innocentia Veritas Viat Fides Cicumdederunt me inimici met" and things were going to get worse, just 2 days later he was to hear of the execution of his Queen and friend, Anne Boleyn.
Although, in a letter dated 19th May, John Husee wrote to Lady Lisle:-
"Mr. Paige and young Wyat are in the Tower. What shall become of them God best knoweth."9
Thomas Cromwell wrote to Sir Henry Wyatt on the 11th June reassuring him that his son was going to be released and there is a reply in Letters and Papers from Sir Henry Wyatt, on the 14th June, saying that:-
"On the receipt of Cromwell's letters declaring the King's pleasure, and his favorable warnings to his son to address himself better than his wit can consider, sent for him and commanded his obedience in all points to the King's pleasure, and the leaving of such slanderous fashion as hath engendered unto him the displeasure of God and of his master. Found it not now to do in him, but already done. Has charged him to follow Cromwell's commandments, and repute him as his father. Assured him that if he had not this sure printed in his heart, he would refuse him for his son. Begs Cromwell to continue the same to him, and he will not find it evil employed. Alington, 14 June."10
It seems that Cromwell had advised Sir Henry to speak to his son and warn him to mend his ways and Sir Henry Wyatt confirms that he has followed Cromwell's orders. His son had escaped death by the skin of his teeth and Sir Henry was not going to let him forget it!
Why was Wyatt Released?
SIr Thomas Wyatt seems to be the perfect scapegoat or fall guy in this coup, yet he escaped to live another day (or another 6 years!). It would have been easy for Cromwell or the King to frame him for adultery or to claim that Anne had not been a virgin when she married the King because she had already slept with Wyatt. Why? Because Wyatt had loved Anne, even if it had been unrequited, they had been friends and there had been gossip about Wyatt's unhappy marriage and his attraction to Anne. So, why was Wyatt not a major part of the coup? How did he escape?
Josephine Wilkinson writes of how Wyatt's escape was mostly down to Cromwell, who had close ties with the Wyatt family, but he would not have been able to secure Wyatt's release without the King's blessing and it appears that the King saw Wyatt as innocent, as someone who had not had much to do with Anne since he had given up on her and let the King have her. Wyatt had distanced himself from Anne Boleyn and it looks like this saved him.
If we are to believe the words of  Nicholas Sander, who wrote that when Wyatt realised that the King had fallen in love with Anne, he actually warned the King's council of Anne's colourful past and confessed that he had sinned with her, we could conclude that Wyatt was saved by his honesty in the past, for warning the King about Anne. I take that story with a very large pinch of salt!
Whatever the truth of it, Wyatt was saved but he must have been haunted by the images that he saw on the 17th May 1536, in those "bloody days".
Innocentia Veritas Viat Fides Circumdederunt me inimici mei

Who list his wealth and ease retain,
Himself let him unknown contain.
Press not too fast in at that gate
Where the return stands by disdain,
For sure, circa Regna tonat.

The high mountains are blasted oft
When the low valley is mild and soft.
Fortune with Health stands at debate.
The fall is grievous from aloft.
And sure, circa Regna tonat.

These bloody days have broken my heart.
My lust, my youth did them depart,
And blind desire of estate.
Who hastes to climb seeks to revert.
Of truth, circa Regna tonat.

The Bell Tower showed me such sight
That in my head sticks day and night.
There did I learn out of a grate,
For all favour, glory, or might,
That yet circa Regna tonat.

By proof, I say, there did I learn:
Wit helpeth not defence too yerne,
Of innocency to plead or prate.
Bear low, therefore, give God the stern,
For sure, circa Regna tonat

by Sir Thomas Wyatt
Notes and Sources
1 – LP, x.798
2 – Wyatt, "The Life of Queen Anne Boleigne", p424, quoted in The Early Loves of Anne Boleyn by Josephine Wilkinson p76
3 – Story from The Chronicle of King Henry VIII of England retold in The Early Loves of Anne Boleyn by Josephine Wilkinson p81
4 – George Wyatt's story retold in The Early Loves of Anne Boleyn by Josephine Wilkinson p83
5 – The Chronicle of King Henry VIII of England p63-64, quoted in The Early Loves of Anne Boleyn by Josephine Wilkinson p132
6 – LP x.840
7 – LP x.855
8 – LP x.865
9 – LP x.920
10 – LP x.1131