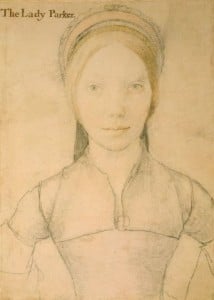 In a letter thought to have been written on the evening of the 5th May 1536, Sir William Kingston writes:-
"After your departing yesterday, Greenway, gentleman usher, came to me and [said that]  Master Carew and Master Bryan [had] commanded him in the King's name to my Lord Rochford from my lady his wife and the message was now more [to] see how he did; and also she would humbly [make] suit unto the King's Highness for her husband."1
Alison Weir points out how odd this message is, in that Jane Boleyn was able to send such a message to her husband, a prisoner in the Tower, when there are no records of the other prisoners having any contact with their families, even though Weston's family were actively trying to get him released. Weir says:-
"Was it that Jane was being sympathetically treated at court because of the invaluable assistance she had afforded the Crown, to the detriment of her marriage vows, and that she took advantage of this to salve her conscience by asking to send a solicitous message to the husband she had betrayed?"2
So, does the fact that Jane was given royal permission ("in the King's name") to communicate with her husband mean that she was being rewarded for being a witness for the Crown? Weir thinks so, but Julia Fox3, Jane's biographer, thinks that Jane was simply being a concerned wife and although she realised that her chances of pleading George's case with the King were slim, if not non-existent, she wanted to show George that she had not deserted him. The way that you look at this message all depends on how you view Jane Boleyn, Lady Rochford, and whether you see her as star witness for the prosecution or as a worried wife.
Star Witness or Worried Wife?
Alison Weir4 believes that the prosecution's star witness was Jane Boleyn, Lady Rochford, and backs up her assertion by drawing on five main historical sources:-
Edward, Lord Herbert of Cherbury – In his 17th century biography of Henry VIII, he called Jane the "particular instrument" in the fall of the Boleyn.
Eustace Chapuys, the Imperial Ambassador.
An anonymous Portuguese account from the 10th June 1536 which refers to "that person who, more out of envy and jealousy than out of love towards the King, did betray this accursed secret, and together with it the names of those who had joined in the evil doings of the unchaste Queen".
Lancelot de Carles – De Carles reported that "a single woman" gave the most damaging evidence against Anne and George, suggesting that it was the Countess of Worcester, but Weir thinks that he actually meant Jane because she was being interrogated at the time.
Jane herself – On the 13th February 1542 just before her execution, Jane was said to have confessed that she had falsely accused her husband of committing incest.
Tudor historian John Guy, husband of Julia Fox (Jane Boleyn's biographer) dismisses Weir's arguments in his review5 of "The Lady in the Tower":-
Edward, Lord Herbert of Cherbury – Guy says: "Weir makes much of the fact that Lord Herbert of Cherbury wrote in his Life and Reign of King Henry VIII in 1649 that "the wife of Lord Rochford [ie Jane] was a particular instrument in the death of Queen Anne". She thinks he was quoting from a lost chronicle of Henry's reign and cites the notes left by a late-17th-century don who'd been mugging up on Anne's fall. But Weir is mistaken, although I had to go to Oxford to be sure. Like all good historians, the don cites his sources, so we know that he'd been reading a dozen or so works, among which were the now lost chronicle and Herbert's own book. His note about Jane is taken from the latter — it even comes complete with the page number."
Eustace Chapuys – Guy says that Chapuys did not name Jane as an informant anywhere in his dispatches.
The Portuguese account – Guy says that the Portuguese account mentions an "accursed secret", but only talks of "that person" and does not name the person disclosing the secret.
Lancelot de Carles – Guy makes the point that de Carles was referring to the Countess of Worcester and that although Jane was interrogated too we have no record of what took place and what she said.
Jane's scaffold confession – Guy points out that this confession is actually a forgery and that contemporary eyewitness accounts of Jane's execution make no mention of this confession.
John Guy concludes by saying that "it's all up for grabs because nothing has yet been proved. We desperately need new facts" and he's spot on, we just don't know for sure what Jane's role was in the fall of Anne Boleyn and George Boleyn. Novelists can portray Jane as a wife seeking vengeance on her homosexual husband or a husband who treated her badly, but we have absolutely no evidence that George Boleyn was a homosexual, rapist or wife-beater, and we have no definitive evidence that Jane was the prosecution's star witness. Perhaps we should give her the benefit of the doubt and see her message as worried words from a loving wife who felt utterly helpless and just wanted her husband to know that she would do all that she could to help him.
George's Reply
According to Kingston's letter to Cromwell, George responded to his wife's message by saying that he wanted to "give her thanks" and then he asked Kingston when he would be appearing before the King's Council "for I think I may not come forth till I come to my judgment"6, which Julia Fox takes to mean "that without Jane's aid he knew that no one would listen to his case before his trial"7. He then broke down and wept8.
Read more about Jane Boleyn at https://www.theanneboleynfiles.com/bios/jane-boleyn/
P.S. I'm not the only one who is counting down to the anniversary of Anne Boleyn's execution with a series of articles, Gareth Russell is also writing a series of posts on his blog – Confessions of a Ci-Devant – and they are well worth checking out. You may remember that he wrote an excellent article a few weeks ago on Anne Boleyn's date of birth.
Notes
1 – The Lady in the Tower: The Fall of Anne Boleyn, Alison Weir, p167 and L&P x.798
2 – Ibid.p168
3 – Jane Boleyn: The Infamous Lady Rochford, Julia Fox, p192
4 – The Lady in the Tower: The Fall of Anne Boleyn, Alison Weir
5 – Review of The Lady in the Tower by John Guy
6 and 7 – Jane Boleyn: The Infamous Lady Rochford, Julia Fox, p192
8 – LP x.798