Christmas Orders
Posted By Claire on December 6, 2010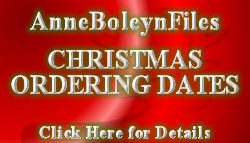 Wow, the Christmas orders are coming in thick and fast! Thank you!
I just thought I'd better write a quick post to remind you to look at our Christmas Ordering Deadlines page when you order so that you can choose the appropriate shipping to ensure that you get your order in time for Christmas. Our products are handmade so our deadlines are based on the time required to make the items, combined with advice from the Post Office regarding shipping times and last posting dates. We do our best to get orders sent out as soon as we possibly can but please do choose the appropriate shipping.
The Tudors Jewelry – For those of you outside the US who are interested in buying our replica "The Tudors" jewelry, the last order date is this Friday, 10th December, and you will need to choose international express.
Gold-Plated B Necklace – This necklace needs to be ordered by the 8th December if you are outside the UK, or by the 17th if you are in the UK.
Please check our Christmas Ordering Deadlines page for other items.