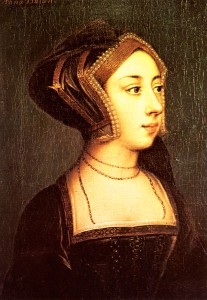 During Advent I have been sharing readings from French Reformer Jacques Lefèvre d'Étaples' book Epistres et Evangiles pour les cinquante et deux semaines de l'an (Epistles and Gospels for the 52 Weeks of the Year) because this was a work that Anne Boleyn owned and read.
Anne was given a beautiful illuminated manuscript of Lefèvre's work by her brother, George Boleyn, Lord Rochford, and I'm sure she delighted in reading the Bible readings and Lefèvre's exhortations. I have a copy of the book, which is in French, so I want to share with you the readings Lefèvre chose for Christmas Day. I haven't translated them directly from Lefèvre's book, I am using the New International Version of the Bible, and I haven't had time to translate his exhortations (sorry!), but I do hope you will enjoy reading what Anne would have read and thought about on Christmas Day in the 1530s.
Merry Christmas!
Hebrews 1:1-12
In his introduction to this reading, Lefèvre reminds the reader that the Son of God came to talk to himself, rather than through the prophets; that he was the Son of God, made in his Father's image, but also truly man, and that he was higher than angels. He concluded the introduction by saying "It is He who came to visit us today, as a little baby. Receive Him and go to Him."
In the past God spoke to our ancestors through the prophets at many times and in various ways, but in these last days he has spoken to us by his Son, whom he appointed heir of all things, and through whom also he made the universe. The Son is the radiance of God's glory and the exact representation of his being, sustaining all things by his powerful word. After he had provided purification for sins, he sat down at the right hand of the Majesty in heaven. So he became as much superior to the angels as the name he has inherited is superior to theirs.
For to which of the angels did God ever say,
"You are my Son;
today I have become your Father"?
Or again,
"I will be his Father,
and he will be my Son"?
And again, when God brings his firstborn into the world, he says,
"Let all God's angels worship him."
In speaking of the angels he says,
"He makes his angels spirits,
and his servants flames of fire."
But about the Son he says,
"Your throne, O God, will last for ever and ever;
a scepter of justice will be the scepter of your kingdom.
You have loved righteousness and hated wickedness;
therefore God, your God, has set you above your companions
by anointing you with the oil of joy."
He also says,
"In the beginning, Lord, you laid the foundations of the earth,
and the heavens are the work of your hands.
They will perish, but you remain;
they will all wear out like a garment.
You will roll them up like a robe;
like a garment they will be changed.
But you remain the same,
and your years will never end."
John 1:1-14
In his introduction to this reading Lefèvre reminds the reader that John's Gospel is mostly about the "eternal generation" of Jesus Christ the Word of God and that the one who is born today is the one who made us, "our life and our light" and that "through him, we are children of God, according to his will and firm promise, and that we must submit to him this faith".
In the beginning was the Word, and the Word was with God, and the Word was God. He was with God in the beginning. Through him all things were made; without him nothing was made that has been made. In him was life, and that life was the light of all mankind. The light shines in the darkness, and the darkness has not overcome it.
There was a man sent from God whose name was John. He came as a witness to testify concerning that light, so that through him all might believe. He himself was not the light; he came only as a witness to the light.
The true light that gives light to everyone was coming into the world. He was in the world, and though the world was made through him, the world did not recognize him. He came to that which was his own, but his own did not receive him. Yet to all who did receive him, to those who believed in his name, he gave the right to become children of God – children born not of natural descent, nor of human decision or a husband's will, but born of God.
The Word became flesh and made his dwelling among us. We have seen his glory, the glory of the one and only Son, who came from the Father, full of grace and truth.