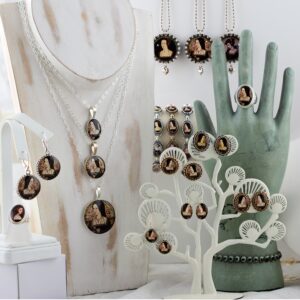 I know it's only the beginning of November but I need to mention Christmas because of our Christmas ordering deadlines, and I know some of you are very organised and have started your Christmas shopping – well done!
Here at the Anne Boleyn Files, we have a shop offering:
Sterling silver, bronze and white bronze jewellery
Anne Boleyn B and A Necklaces with faux pearls or freshwater pearls
Anne Boleyn and Elizabeth I themed apparel – t-shirts, hoodies, scarves and tank tops
Tudor themed magnets, buttons, paper weights, tea towels, bags, drink charms, bottle stoppers and other such gifts
The Anne Boleyn "Moost Happi" medal
Tudor felt dolls
Tudor style miniatures
And a whole section of gifts under $20
Click here to visit our shop now.
We ship worldwide and you can click here to see our Christmas ordering deadlines.