A Baptism and a Coronation – 1516 and 1547
Posted By Claire on February 20, 2014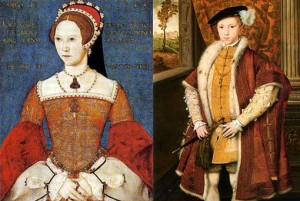 Following her birth on 18th February 1516, the future Mary I, was baptised on 20th February in the Church of the Observant Friars at Greenwich. The little princess was carried to the font by the Countess of Surrey and her godparents were Catherine Courtenay, Countess of Devon and daughter of Edward IV; Margaret Pole, Countess of Salisbury and daughter of George, Duke of Clarence; the Duchess of Norfolk and Cardinal Thomas Wolsey.
Trivia: One of the men holding the canopy over Mary as she entered the church was Thomas Boleyn.
Also on this day in history, but thirty-one years later, was the coronation of Mary's half-brother, Edward VI, in 1547 at Westminster Abbey. The nine year-old Edward had become king on 28th January 1547, on the death of his father, Henry VIII, and was being helped by a regency council headed by his uncle, Edward Seymour, who became Lord Protector of the Realm and who also held the titles of 1st Duke of Somerset and Governor of the King's Person.
Trivia: Edward VI was the first monarch to be anointed as Supreme Head of the English Church at his coronation.
You can read all Edward's coronation procession and the coronation itself in my article The Coronation of Edward VI – 20 February 1547, and you can read more about Edward in my short biography of him – Edward VI.