Armistice Day – Lest We Forget
Posted By Claire on November 11, 2010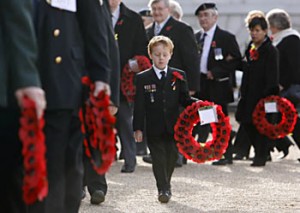 Today is Armistice Day, Remembrance Day or Veteran's Day in many countries around the world and I will be pausing at 11am GMT to observe a two minute silence in remembrance of all those who have died, whether in the armed forces or as civilians, in wars and conflicts.
Armistice Day, the 11th November, commemorates the moment, at "the eleventh hour of the eleventh day of the eleventh month", in 1918 when the armistice was signed between the Allies and Germany on a railway carriage in Compiègne Forest.
In my home country, the UK, the two minute silence and commemorations were moved to Remembrance Sunday, the Sunday nearest to the 11th, in 1939 so that if the 11th fell on a weekday the two minute silence and commemorations would not hinder the wartime effort. These days, the armistice is commemorated on both days and people buy and wear red poppies in the weeks leading up to Remembrance Sunday.
As a Brownie and Girl Guide, I took part in processions to our village war memorial on Remembrance Sunday, to leave wreaths of poppies in memory of villagers who had died during the wars and then we processed to church for a special service. On Remembrance Sunday, there will be the annual Cenotaph Parade in Whitehall, London, where thousands of veterans and thousands of others will march to the Cenotaph and where members of the Royal family, led by the Queen, will lay wreaths following the 2 minute silence. At 11am, a field gun is fired on Horse Guards Parade to signal the start of the 2 minute silence and then fired again to signal the end of it. The Royal Marines buglers then sound the Last Post.
The Cenotaph Parade is incredibly moving and is shown live on TV in the UK for those who are not able to attend their own local parades.
Here is a video of one parade, including the 2 minute silence and laying of wreaths:-
I know that those of you in the USA have a public holiday today to mark Veterans Day and I know that many other countries mark today too, so please do let me know how you commemorate Armistice Day in your country.
I'll leave you with the poem "In Flanders Fields", written by Canadian Lieutenant Colonel John McCrae in 1915:-
In Flanders fields the poppies blow
Between the crosses, row on row,
That mark our place; and in the sky
The larks, still bravely singing, fly
Scarce heard amid the guns below.

We are the Dead. Short days ago
We lived, felt dawn, saw sunset glow,
Loved and were loved, and now we lie,
In Flanders fields.

Take up our quarrel with the foe:
To you from failing hands we throw
The torch; be yours to hold it high.
If ye break faith with us who die
We shall not sleep, though poppies grow
In Flanders fields.