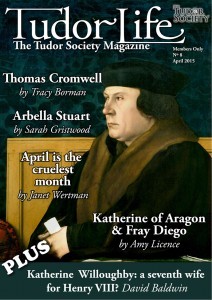 Just to let you know that the April edition of Tudor Life, the monthly magazine of the Tudor Society, is out now. You can view a 'taster' of it over on The Tudor Society website – click here – and this month's feature articles include:
Thomas Cromwell: Political schemer or party animal? By Tracy Borman
Arbella Stuart and Hardwick Hall by Sarah Gristwood
Passion and Despair 1507-9: Catherine Aragon and Fray Diego by Amy Licence
Katherine Willoughby, a seventh wife for King Henry VIII? By David Baldwin
'April is the cruelest month' by Janet Wertman
All the long gone queens by Ruth Stacey
Photo spread on Little Moreton Hall by Frank Brassington
As well as articles from our regular contributors: Beth von Staats, Gareth Russell, Jane Moulder of Piva, Melanie Taylor, Kyra Kramer, Charlie Fenton and little old me!
Historian Derek Wilson is our expert speaker for April over at the Tudor Society and he's prepared a wonderful talk for us. You can find out more about the Society at https://www.tudorsociety.com
Do remember to check out the Tudor Society Anne Boleyn quiz if you haven't already – click here.