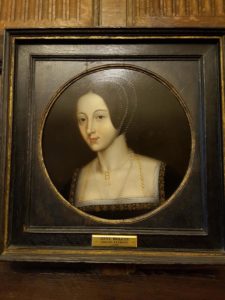 On this day in history, 29th January 1536, Queen Anne Boleyn suffered a tragic miscarriage. It is often said that she miscarried a deformed foetus, or even a "monster", but is this true?
In my latest "Anne Boleyn questions" video talk, which you will find below, I take a look at what the contemporary sources say about Anne's miscarriage and also examine the origin of this myth, and it is a myth.
This video is part of a series answering Anne Boleyn Files followers' questions about Anne Boleyn, her life, her time as queen and her family. You can find the other videos in the Questions about Anne Boleyn playlist on YouTube. I am also doing "on this day in Tudor history" videos on a daily basis which you will find on the Anne Boleyn Files and Tudor Society channel, which you can subscribe to to make sure you are notified when new videos go live.
You can turn on "CC" (closed captions/subtitles) on the video by clicking on "CC" or the cog settings icon if you cannot have the volume turned on or you are hard of hearing.
If you prefer reading articles, you can read about this miscarriage in my article Anne Boleyn's Final Pregnancy.
Notes and Sources
Letters and Papers, Foreign and Domestic, Henry VIII, Volume X, 282.
Hall, Edward, Hall's Chronicle, p.818.
Wriothesley, Charles, A chronicle of England during the reigns of the Tudors, from A.D. 1485 to 1559, p.33.
de Carles, Lancelot, Poème sur la Mort d'Anne Boleyn, lines 317-326, in La Grande Bretagne devant L'Opinion Française depuis la Guerre de Cent Ans jusqu'a la Fin du XVI Siècle, Georges Ascoli. My translation was done at my request by Paolo Dagonnier.
Ives, Eric (2004) The Life and Death of Anne Boleyn, Wiley-Blackwell, p.297.