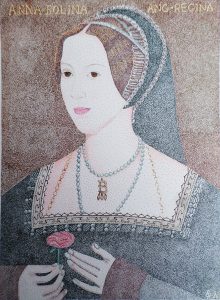 A beautiful pointillist portrait of Anne Boleyn, based on the Hever rose portrait of her, was specially commissioned off artist Gary Ransom for Anne Boleyn Day 2016,
The portrait measures 25cm x 33.5cm and has an estimated 100,000 dots. It took about 30 hours to complete. Gary explains the technique:
"The technique is actually quite simple. I begin with a basic pencil sketch to be sure that the proportions are correct, as the ink that I then use isn't erasable and even one mistake can be very obvious in the final drawing. The dots themselves are made with 2 different thicknesses of Stabilo coloured pens with the finer being used for more detailed areas. Although this image contains around 12 different colours, shades can be varied by changing the density of the dots. Simple!"
Proceeds from the auction of the portrait will be split equally between The Mary Rose Trust, which is responsible for Henry VIII's favourite warship, The Mary Rose, and the artefacts found in the wreck, and Rope, which is committed to combating the impact of poverty across the world.
You can bid on the portrait at eBay – http://www.ebay.co.uk/itm/162074923329click here to do that now. There is no shipping to pay.