Anne Boleyn Play Competition
Posted By Claire on March 15, 2012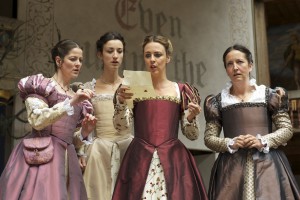 The UK's Blackpool Grand Theatre is offering Anne Boleyn Files visitors the chance to win tickets to see Howard Brenton's play "Anne Boleyn" on Wednesday 28th March 2012.
2 pairs of tickets are up for grabs – simply comment on this article and two winners will be chosen at random on Wednesday 21st March. Please only enter if you are able to travel to Blackpool, Lancashire, UK on Wednesday 28th March.
Here are more details…
From 27th March 2012 English Touring Theatre and Shakespeare's Globe are bringing Howard Brenton's highly acclaimed "Anne Boleyn" to The Blackpool Grand Theatre – fresh from two sell-out London seasons! This is the only North West date that they are doing on their current tour and it will only be playing until Saturday 31st March 2012.
From the press release:-
"Anne Boleyn leaps between generations to reveal the debt King James I owed to Anne when he reconciled England's religious factions by creating his own 'common' Bible. Hunting through an old chest, the newly crowned James uncovers the controversial legacy left by Henry VIII's notorious second wife. Time jumps back 70 years when the flirtatious Anne was in love with Henry, and also with the most dangerous ideas of her day. Conspiring with the exiled William Tyndale she plots to make England Protestant. For ever.
With five star reviews for its London seasons Anne Boleyn is an unmissable opportunity to see a production by the powerhouses of great theatre, English Touring Theatre and Shakespeare's Globe.
Neil Thomson, the Grand Theatre's CEO said, "We constantly strive to stay ahead of audience demand at the Grand Theatre and bring the best in popular and classic theatre. This season we have embarked upon an ambitious programme of quality drama with productions coming from acclaimed companies." "
The Blackpool Grand Theatre is also offering Anne Boleyn Files visitors a special offer – £10 off a pair of tickets for 27th – 29th March (including matinee). Simply contact their box office on 01253 743 346 and quote "Boleyn".