Advent Treats from the Anne Boleyn Files and Tudor Society
Posted By Claire on December 6, 2017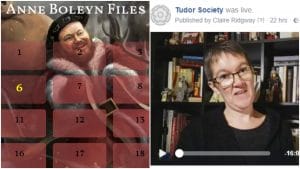 You may be wondering why there aren't any new articles going on the Anne Boleyn Files at the moment. Well, there actually are, it's just that they're all going on the Anne Boleyn Files Advent Calendar page.
Each day, there is a new Tudor treat for you to enjoy and I do hope you're enjoying it. We have some wonderful authors, historians and artists involved.
To access the Advent Calendar, you can either click on the header at the top of this page or go to www.theanneboleynfiles.com/advent2017/. Remember to check back every day!
Another thing I'm involved in is the Tudor Society 'virtual' Advent calendar on Facebook. Every day, until Christmas, I am talking live using 'Facebook Live' on the Tudor Society Facebook page. I'm sharing all kinds of Tudor treats that way – on this day in history events, Tudor trivia, talks on Tudor life, book recommendations… you name it! If you'd like to see those then you can go and 'like' and 'follow' the Tudor Society Facebook page – click here.
Thank you for all the lovely comments I've received about the two advent calendars. I love organising it all, it's fun, although going live on Facebook is a little scary!